To help a bedroom come alive, you need an appropriately stylish bed that will tie the entire design of the room together. An elegant French-style bed can be the ultimate statement piece that not only adds that element of luxury you are looking for, but truly give your bedroom the feel of a French Provincial sanctuary.
If you are looking for inspiration when it comes to transforming your bedroom using high-quality vintage-style furniture pieces, we have outlined some pointers below.
What a French-Style Bed Can Bring to Your Bedroom
Can a single piece of furniture really make that big of a difference when it comes to the way a room looks or feels? While this isn't always the case, if you are trying to create a seamless French country atmosphere in your home, it could be tough work without the proper furniture pieces. In terms of your bedroom specifically, an inelegant piece that doesn't reflect the spirit of what you are trying to achieve won't do you any good.
It's not just the aesthetics of your bed that matter. It's not something we often think about during the course of a busy day, but all of us spend a good amount of time in our bedrooms, and in our beds specifically. For roughly one-third of every day, our beds are our world, so it makes sense to take extra care in selecting them and investing in quality. A comfortable, well-made bed will provide you with years of sound sleep, which is integral to a fully-functional bedroom, and your overall wellness in general.
The right bed is also important for helping to complement the rest of your furniture and decor. Even if all of the rest of your antique furniture matches, your whole bedroom can feel disjointed or unbalanced if your bed doesn't match accordingly. Creating the proper look for your French-style bedroom necessitates a stylish vintage-style bed that has all of the specific details and design conventions you are looking for.
Our Finest French Provincial Beds
Beautiful bedrooms start with luxurious beds, and we have quite a selection of them here at EloquenceⓇ, which can help you create a room that completely reflects your unique vision of French luxury. Each of our reimagined pieces has been crafted with the same care and skill you would find in antique pieces hailing from Provence, buffered with modern techniques to ensure lasting quality that also looks and feels authentic.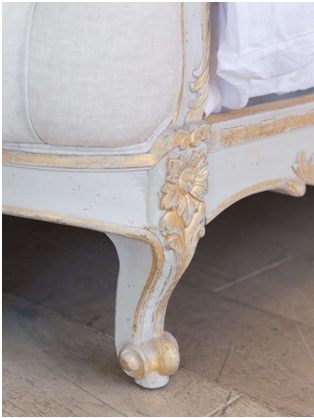 When searching for the perfect bed for your bedroom, there are certain points you want to consider, such as the tone of the upholstery, the design of the frame, and any details that may be included in the bed itself that may match with other elements of your furniture and decor. Alternatively, you can start off your bedroom by selecting a beautiful French-style bed and then choose the rest of your furniture around this piece, taking its details into consideration to base your choices off of. Either way, you want to take the time to choose a bed that truly captures the French Provincial look you want for your home, and here at EloquenceⓇ, we have made this process as easy as possible, as you will find our luxurious French beds will more than meet your needs.
When you think of French elegance, what comes to your mind? Elaborately detailed carvings, solid wood construction, a whimsical through and through. All of these elements are perfectly reflected in our Sophia Bed line, specifically this one in question. With a stunning gold finish, imaginative curves, and a subtle yet pretty tone that will absolutely instill a sense of luxury in your bedroom.
For a different take on French style for your bedroom, our Dauphine line reflects a more subtle and serene look that still holds the same degree of elegance in terms of design. With gentle weathering and a tone that is both refined and feminine, this is the perfect statement piece that can be used to set the mood of your entire bedroom without being overpowering or appearing out of place.
Our collection of beautiful antique-style beds doesn't end there. If you are looking for a beautiful, high-quality bed that will not only provide you with all the comfort you need but will also help your vision become reality, you are sure to find the ideal piece here in our store.
We place a high degree of attention toward every detail when it comes to bringing out those fine French qualities you love. So whether you are trying to put together a traditional-looking bedroom using one of our lovely French-style beds, or if you already have your dream bed and need the perfect antique bedroom furniture to help complete your bedroom design, our furniture boutique has what you are looking for.