The French Provincial style is both captivating and practical, loved for its charming and refined style that still feels down to Earth. Creating a beautiful French-style bedroom can be incredibly rewarding, but you may need a little direction if you want everything to look just right.
The key to a beautiful bedroom is utilizing the proper furnishings. A French Provincial bedroom set is an absolute necessity that will help make your room come alive and provide you with reliable functionality as well. This decor guide will help you spot the perfect French pieces for your bedroom, along with plenty of tips on essential Provincial elements you should think about implementing.
Important Elements of French Provincial Bedrooms
Before jumping into the furniture pieces you need in order to create your dream bedroom, there are a few style conventions you will want to take to heart if you want to capture that authentic Provincial look and feel. While there's plenty of room to deviate from some of these tips and techniques, you can use them as a reliable guidepost to keep your room grounded and elegant.
Use Pastels and Neutral Colors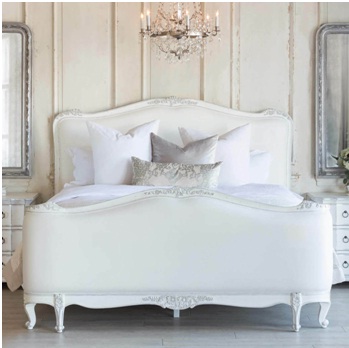 The first essential element you will want to take note of for your Provincial bedroom is the proper use of color. Specifically, the French style is not overly reliant on strong colors, but instead employs a gentle mix of natural and neutral tones that help to make spaces feel open, inviting, and attractive.
When selecting the color of your walls, linen, and furniture pieces, you want to be mindful of the general tone of the room and how it will flow together. Whites and creams are used quite a bit in the French style, as well as pastels. You might want to consider using a neutral color on the walls and flooring, so that you can better control the tone of the room with just a hint of color in your bed, linen, curtains, and other elements. Shy away from dark and bold colors if you want to retain that signature Provincial look.
Capture a Lived-in Feel
A Provincial home is one that is both refined but thoroughly lived in as well. This isn't the king's chambers we're talking about here, so make sure that as you implement your design ideas, you go out of your way to create a space that is cozy and inviting.
To accomplish this, consider your use of decor items and the furniture you utilize as well. For instance, delicate-looking whitewashed nightstands may fit in well here. Plush Bergere chairs, and a romantic vintage-style bed, along with just a hint of floral elements can help you generate this effect. The key here is not to allow the room to feel stuffy or crowded, as the Provincial style is at once beautiful and practical.
Add a Little Lace
A little bit of lace goes a long way, especially if you are putting together a beautiful French Provincial bedroom. Think about your use of lace on the curtains, bed linen, or on any decor pieces you might want to add. While an abundance of lace may make your room appear overly feminine, it can create that necessary bit of whimsical charm that can really help to bring the feeling of the room together.
Include a Hint of Rustic Decor
Even if you aren't specifically going for the farmhouse look, a lovely Provincial space should always include at least a little rustic decor to add that feeling of naturalness and warmth. You have plenty of options here, from carved wood statuary or wreaths, to wooden furniture accents, tree ring coasters, live plants, terracotta pottery, and even small metal items.
Rustic elements will help to ground your design and balance out the more stylish and feminine items, to create a coherent Provincial look that is more authentic and warm, and which will help complement your bedroom set as well.
Floral Elements Work Well Too
What French-style bedroom arrangement would be complete without a liberal use of floral elements? Floral motifs were quite common when the Provincial style was at its peak, which is why so many antique mirrors, dressers, beds, and other furniture items have elaborate and intricate floral designs. You can use this to your advantage and incorporate various decor items and pieces of furniture that sport beautiful floral carvings or patterns, just as long as they match.
One of the reasons why investing in an actual French Provincial bedroom set is so beneficial is because it can help you match up your design conventions, which can make your room feel more coherent and harmonious. Either way, you will want to be mindful of the different patterns and designs that are featured on the furnishings you use, so that you can better pair them together and create a more inviting, balanced look for your bedroom.
Start With a Gorgeous Vintage-Style Bed
Now that we have some of the basic bedroom elements out of the way, it's time to start looking at some furniture. The first piece you will want to consider in your arrangement is none other than your Provincial-style bed. This is the piece that will typically anchor the whole room and stand out more than anything else, so it's important that your bed is high-quality and elegantly crafted in the Provincial style.
Here at EloquenceⓇ, we have a wide selection of antique-style beds and French Provincial bedroom sets that you can use to beautify your room and give it a distinct air of refinement and beauty. Our Sophia Bed for instance employs an array of gorgeous French design conventions such as gently snaking lines and gracefully curved footboard, along with soft-toned linen options, that will truly improve the look and feel of your bedroom while providing a maximum level of practical comfort.
When it comes to the bed that you select for your room, it's important to weigh your options and select a piece that embodies the specific look you are going for while remaining true to the rich history of the French style. Our handcrafted reimagined pieces here at EloquenceⓇ stay true to the original design elements of the Provincial artisans, which makes it easy to infuse your bedroom with both luxury and usability.
We know how important it is to have options when it comes to styling your bedroom, and how difficult it can be to find antique beds that are still in usable condition. Our bedroom pieces shine with quality and have been designed in such a way as to capture the essence of Provincial luxury in a variety of styles you will love.
Your Nightstands and Dressers Should Match
The next step to putting together the perfect French bedroom is finding attractive antique dressers, chests, and nightstands that compliment your bed and also provide plenty of storage space. High-quality dressers and nightstands are useful because they keep your arrangement neat and tidy while also fleshing out the room with artful elements.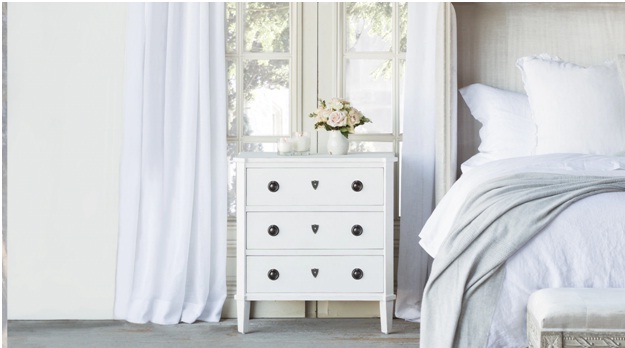 A beautiful French dresser can act as an artistic statement piece in itself. Our store has a great selection of these bedroom pieces available in a variety of styles, giving you plenty of freedom to craft your room just how you want it. Pay attention to the tone and design elements of your antique-style bed, which can help you choose dressers and nightstands that match accordingly.
It's important to try and also match up your nightstands with your dressers, as mismatched pieces here will stick out poorly and throw the entire look of your room off balance. One easy way to create a rustic and charming French Provincial look is to go with whitewashed nightstands and dressers. This timeless look not only provides rustic appeal but is easy to decorate around as well.
Adding a Vanity? Try This
If you are arranging a vanity area in your bedroom, you don't want to miss including a beautiful antique vanity mirror, which is not only practical but can provide a great amount of elegance to your bedroom. Mirrors also can enhance the brightness and openness of a room, so think about where you are thinking of starting your vanity area and see if you can angle your mirror so it naturally captures the most light.
An antique bench can also be used at the foot of your bed or with your vanity in order to complement the rest of your pieces and provide much-needed seating options as well. A bench is one of those furniture pieces that you may not even realize how useful and attractive they are until you own one. They not only help enhance the look of a Provincial setting, they are endlessly practical as well.
Create a Reading Nook to Complete Your Room
If you have any remaining space in your bedroom, you may want to include a sitting area or reading nook. As long as you stay true to your aesthetic and utilize a table and chairs that match the tone of your bed and the rest of your furniture, a small nook like this can put the finishing touches on your bedroom.
Creating a reading nook is easy and requires only a few essentials pieces. First, you will want to start with two or three attractive and comfortable vintage-style chairs. A pair of French armchairs or Bergere chairs will do perfectly here, and will help to bolster the Provincial look of the room. Next, you may consider adding a small table or desk, depending on the layout of your room.
When arranging these pieces of furniture, it's important that you don't obstruct movement or try to cram too much furniture into a smaller space. Your French Provincial bedroom should remain practical and balanced throughout.
Where Can You Find These Essential Provincial Furniture Pieces?
If you want to put together a stunning French Provincial bedroom, you need the right high-quality furniture pieces and decor in order to do it. Using the right handcrafted beautifully-designed furniture pieces will help make your bedroom feel elegant and inviting.
To find the right bedroom furniture for your home, simply take a look at the selection we have featured here in our furniture boutique. With a wide range of different styles, colors, and features, our quality furniture pieces will allow to craft an amazing-looking bedroom arrangement with ease.
While choosing the right furniture for you, keep the Provincial style elements in mind and have an idea as to what you want out of your bedroom before you make a purchase. Creating a functional and attractive space requires a bit of foresight and planning, but with the proper furniture and adherence to certain design principles, you will be shocked how easy it is to create a bedroom that will help transport you to the French countryside every night!
Here at EloquenceⓇ, we understand that quality matters when it comes to the furniture you use in your home, which is why each of our vintage-style beds, dressers, benches, and other bedroom furniture pieces are designed with luxury and longevity in mind. Our reproduction pieces capture the heart of French luxury while providing you with modern-day functionality and comfort, for the best experience possible.
Whether you are searching for the perfect bed to include in your home that can transform your bedroom, or an assortment of other fine furniture pieces such as antique gold mirrors, dressers, commodes, nightstands, and even chandeliers and sconces, you will find all of this and more in our online store. If you want to create a unique and refined Provincial arrangement in your bedroom that looks just how you envisioned it in your mind, you're going to love the selection of handcrafted furniture pieces in our store.
If you have any questions about our selection of vintage pieces or want more information on our gorgeous reproductions and bedroom sets, give us a call at 310-876-0661 and we will help you find just what you need in order to make your French bedroom a reality.