Also often referred to as a buffer or credenza, sideboards have been an elegant addition to the dining room for centuries. Traditionally, they've been used as a storage solution for dishes, cutlery, glass, and table linen for when kitchen storage wasn't enough to house all of a home's fine dinnerware.
Sideboards were particularly popular in Victorian dining rooms and were also often used to serve food. This is one reason why they are often located next to the dining table, and why they are also referred to as a buffet. Some of the earliest sideboards were from the 18th century and followed the French style. It's this traditional French sideboard aesthetic that we, at Eloquence, work hard to recreate.
But what, exactly, are the uses and advantages of a French sideboard in today's modern home? How do they contribute in terms of practicality? And why choose a French sideboard over a modern one? These are some questions that we'll explore further in this article.
3 Basic Uses of a French Sideboard
A sideboard can have a variety of functions other than the traditional surface for serving food to guests. They're elegant enough and versatile enough to allow for a variety of different uses and functions, which is what makes them such a great addition to your home furniture.
1. An Additional Decorative and Display Area
More than just a buffet table, French sideboards are also perfect for decorative and display purposes. They're an ideal location to show off some of your plants, books, antiques, and artwork. Many French sideboards, just like this Caspian Sideboard in Gustavian White Finish, often carry that classic, rustic look that goes hand in hand with some of your more fancy-looking displays.
Sideboards are particularly handsome when paired with a bouquet of flowers. Buying a couple of fresh blossoms from your local flower shop and setting them atop your sideboard is simple enough yet elegant enough to create that perfect display, whether your sideboard sits in your living room or dining room.
2. Additional Storage Space
When it comes to a more practical sense, sideboards are excellent if you're looking for additional storage space. Most sideboards contain either drawers or cabinets, making them perfect for storing those fine cutlery that's often saved for special occasions. They're also perfect for hiding away any unused displays (such as holiday decorations), or extra sheets or table linens.
3. As an Entertainment Center
Some sideboards are situated in the living room rather than the dining room. These are sometimes used as entertainment centers for TVs and other media, where the extra cabinets can serve as storage space for your media players, video game consoles, or other technologies connected to your big home screen.
Choosing the Perfect Sideboard
Sideboards can come in a variety of different styles, from classic to contemporary, Scandinavian to Victorian. Deciding between styles depends, overall, on the kind of aesthetic that you're going for within your home.
1. Read the Room
That said, when choosing a sideboard to take home with you, it's important to first evaluate your room. What are the key themes, colors, and styles that are already present in your living room or dining room? How does the sideboard you're considering fit into the rest of the room's overall look and feel?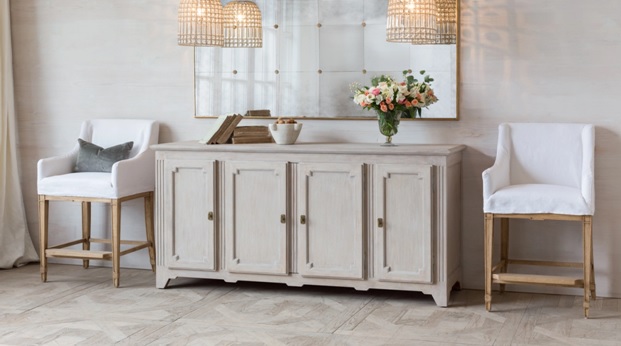 A quick look at our Etienne Sideboard in Nordic Wash Finish, for example, reveals its soft yet regal presence, one that fits well with other restrained pieces. This sideboard would work well with some traditional Swedish furniture, or with pieces that carry that shabby chic finish.
2. Measure Your Space
Sideboards come in different sizes. This Matthias Cabinet, for example, is only about 41 inches wide, which is a good ten or so inches smaller than the Etienne Sideboard above. Before purchasing any sideboard, then, it's always important to take accurate measurements of the space you're looking to fill.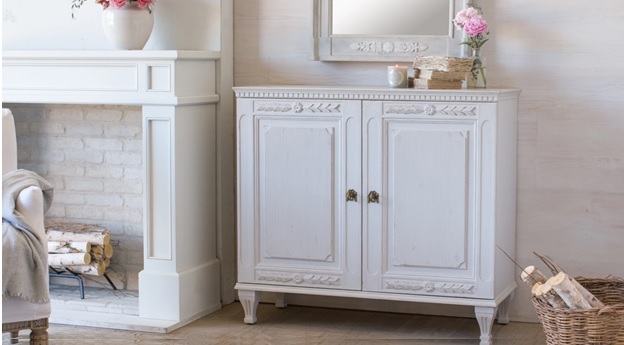 Consider, as well, the spaces in between your French sideboard and your other furniture. You don't want to place your sideboard in a location that makes it look too tight and cramped. This will only take away from its refined beauty and elegance.
3. Review the Material
Lastly, when on the lookout for that perfect French sideboard, make sure to consider the material. Our sideboards at Eloquence, for example, are made from Beech and Oak wood, engineered hardwood, and Ash Veneer, among other materials.
Other, more modern sideboards are sometimes made from metal and glass. What's important is that the material is both sturdy and appealing.
Bring Home the Perfect French Sideboard
One thing that sets Eloquence apart from the rest is that our furniture specializes in French & Swedish re-editions, following the Provencal, French Country, Parisian Chic aesthetics. Each piece is handmade, and hand finished. Additionally, we also import genuine antique furniture from across Europe, which means that you're guaranteed to obtain high-quality pieces whenever you make a purchase with us.
To view our selection of French sideboards, as well as other living room, dining room, and bedroom furniture in the French Provencal style, simply check out the store here on our website. .