Among mirror buyers and sellers, something strange has been happening. The previously simmering situation has now reached a boiling point, so pay attention!
Enter: the Antique French Mirrors.
Mirrors and original designs have long ruled supreme, but suddenly it appears that older and even "vintage" forms have surged back into public awareness.
It's possible that the perception of timelessness these designs offer, or the desire of purchasers to purchase items that seem to be "genuine," has brought them back from extinction. French vintage mirrors and classic weathered designs have made a huge resurgence, with many of our best sellers being mirrors in a more sophisticated Parisian aesthetic!
Let's take a closer look at why they've grown so popular and see what we can discover. For a more French look, think about how you might combine these elements in your home.
Choosing the Perfect French Antique Mirrors
There's no better way to spruce up a room than with a mirror, which is why they're so common in home décor. If you want to make a room seem bigger, brighter, or more contemporary by placing it in the proper spot, then a French mirror is an excellent choice.
Many individuals, both those who are purchasing their first home and those who are trying to upgrade from the adorable item they purchased from Ikea in the early 2010s, are unsure of where to begin the process.
Pay close attention to the silhouette and the framework of the item you're purchasing. Metal, wood, plaster, and leather are among the most commonly used framing materials.
The next step is to locate a store that offers reasonable prices. This is why we're here.
Consider the area's layout and other design elements before making a purchase decision on a mirror for the living room. Our Antique Arched Mirror is a timeless addition to any room with a fireplace.
It's got a decorative trim in a dark olive green finish with gilt details, which is the perfect choice for a sophisticated result. It also has the potential to be a beautiful sculpture in a more conventional family room.
Many people don't realize this, but mirrors should be placed such that they reflect and intensify the available light. They reflect light into otherwise gloomy areas and may be used to great advantage to simulate window placement. We recommend positioning a mirror on the wall opposite a window to reflect natural light into the area and provide the illusion of more space.
Infusing the French Aesthetic with Gilded Mirrors
French-style mirrors are one of the most prominently returning design elements. Considering the reputation that French interior design and décor have for refinement, it is not surprising that many of their creations have stood the test of time.
Do you know that a room's décor may be considered complete with only three key elements?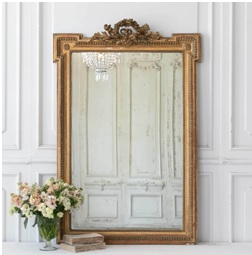 Yes. Adding a plush sofa, a French chandelier in an aged gold finish, and a gilded French antique mirror instantly elevates the space to a new level of sophistication.
Antique French mirrors feature elaborate frames that look great against their aged patina. This is particularly accurate when referring to French mirrors that have been gilded yet have a chipped surface. Check out this Antique Gold Mirror we offer at Eloquence, and you'll notice how the details of a room, like the worn gold finish and ornamental trim, make all the difference.
Antique French mirrors, in particular, are elaborate works of art that include colorful floral designs and are sure to become the focal point of whatever room they are placed in. Some patterns are more intricate than others, but even the simplest ones include embellishments of gold, rose gold, silver, or white.
The use of a high-quality antique mirror is unparalleled in the realm of interior design. Gilded mirrors, which are typically the main point of a room and provide it with a touch of Parisian elegance, are a beautiful way to decorate.
Adding a great antique mirror that goes with the rest of the furniture may give a room a classic, mystical, or antique appearance and feel. If you want to go for a more unique and contemporary style, match the ancient mirror that will add a spectacular emphasis to a modern space. Today, the safest approach is to combine classic and contemporary elements to create a look that is both beautiful and original.
Instead of matching mirrors with bedroom sets, tables, and walls, try the reverse for a more modern effect and combine contemporary mirrors with more conventional furniture and vice versa. As an accessory to the furniture, mirrors provide visual harmony and depth.
Antique French mirrors are often utilized as a decorative accent in today's homes, especially in the dining room or over the fireplace. Make sure you get the right size frame, however, since it can't be much wider than the items it will be hanging over.
When placed against a dark wall, the reflection of the mirrors from the vintage French mirrors will immediately brighten the space. Hanging a large antique mirror on its own or with one of our Contessa Entry Tables in Chipped White Finish below may provide a sense of drama to even the smallest of rooms.
Conclusion
If you have an appreciation for antique mirrors from the 19th century, you are conversant in the language of the nobility. Unfortunately, the importance of possessing a magnificent antique mirror, formerly reserved for emperors and queens, is sometimes lost on modern consumers.
The most valuable investment you can make to give your house a luxurious appearance is in a French antique mirror. French antique mirrors, with their elaborate frames and dark edges, will immediately elevate any room.
French antique mirrors are not only beautiful pieces of art that can be utilized to beautify the area, but they can also make a room seem bigger and brighter.
Those with a refined aesthetic sense will be immediately taken in by the charm of the French antique mirrors. In addition to serving a practical purpose, antique mirrors may be a source of decorative inspiration for a home that is both unique and stylish.
It's not hard to track down a beautiful example of an antique French mirror these days. Come see the best assortment we've ever had at Eloquence.com.