From invigorating floral scents to the warmth of their flickering flames, luxury scented candles not only add visual appeal where needed, but also have the ability to touch on our other senses as well. They are simply a must-have if you want to add beauty and atmosphere to your home.
Creating a certain look and feel in your home can be both exciting and frustrating. Selecting each piece of quality furniture while making sure everything matches, picking out complementary decor items, arranging everything so that your home feels welcoming and warm, ensuring that there is ample light and enough space to move around. Even with plenty of inspiration, however, it can be a daunting task to create the right kind of ambiance throughout your home, which is why the addition of high-quality candles can be so beneficial.
Handcrafted scented candles can add the perfect element of luxury and romance to your home. Whether you are looking for a way to set a certain mood or add that last bit of visual stimulation to a room, the right candles can make this an easy job. We've put together the following guide to help detail the benefits of using scented candles in your home, and how easy it is to utilize them in order to create a desired atmosphere.
What Makes Perfume Candles so Effective?
What is it about luxury scented candles that make them so perfect for directing the atmosphere of a certain space? It all starts with the ingredients that are used to craft them. The quality of a scented candle can vary significantly, depending on the brand and the ingredients that are used. This is important to note if you are thinking of using candles throughout your home.
Higher-quality candles will last longer and have richer, more complex scents than cheaper varieties. The fragrances used in luxury candles are much less likely to irritate the senses or cause any allergic reactions, as well. Care is taken to use only wholesome ingredients like coconut wax and pure essential oils, rather than artificial fragrances or parabens.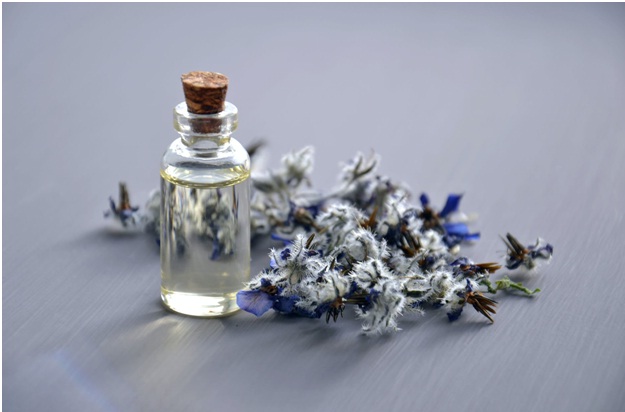 Essential oil blends are extremely effective at creating luxurious aromas that while striking, aren't overpowering. In fact, because they are derived from natural sources, these fragrances are mildly stimulating and refreshing, rather than overtly pungent. When using candles, you want to avoid overpowering scents that can detract from the atmosphere you want to create, for multiple reasons. One, such fragrances are unnatural and simply don't lend themselves well to crafting a welcoming space in your home. The second main reason why you want to avoid artificial fragrances like this is that they can be irritating for many people. Cheap perfumes created from chemicals can trigger a wide range of reactions and allergies, so it's best to avoid using them whenever possible, especially in candles.
Another element you want to take note of when it comes to luxury-quality candles is the presentation. Not all candles work well as decor items, so if you are planning on using them for this purpose, make sure the ones you select have the right artistic elements you are looking for.
Using Your Luxury Scented Candles Throughout Your Home
Some decor items can be cumbersome or awkward to add in certain places in your home. From large pottery pieces to antique mirrors, it can be difficult at times to work such items into spaces that need an improvement, whether it's due to their size, or expected convention.
Luxury scented candles can be used just about anywhere in your home, however. Candles are extremely versatile when it comes to their size and where you can place them. From countertops to coffee tables, bookshelves to sideboards, candles are easy to incorporate into just about any furniture arrangement or room design. This makes them ideal for setting a certain tone or atmosphere without having to alter other aspects of the room that much.
Take your living room for instance. With the right high-quality perfume candles, it would be simple to boost the charm and visual appeal of the room with only a few minute changes. You could simply add a lovely candle to the center of your vintage-style coffee table, or include matching candles on each of your side tables, for a harmonious yet subtle look.
For your dining room, you could try adding a few of these candles to your cabinet or sideboard, depending on which space needs a visual enhancement. If your dining room is on the cozier side and only features a table and chairs, you could even place one of these quality candles in the center of your antique dining room table. If need be you could relocate it to the kitchen if you're short on space during a meal.
The bedroom is another place in your home where these high-quality candles stand out. You could place matching candles on each vintage nightstand, or set aside some room on your dresser or vanity table for one. If you have been trying to create the perfect French-style bedroom, adding an aromatic luxury candle might be just the solution you need.
These candles also work well throughout other places in the home. You can try adding them to your kitchen, bathroom, home office, or even the foyer, depending on need. When arranging your candles, think about the value they bring not simply in terms of visuals but with their other functional qualities as well. The foyer, for instance, can be an expert way to make use of a candle's powerful qualities. As soon as one of your guests walks through the door, they will be wrapped in the inviting scent of your candle, and will feel welcomed by the flame as well.
The beautiful organic and energetic nature of candles makes them particularly useful for making spaces feel more lived in and charming. Whether it's the warm glow of the candlelight or familiar scents such as roses or sandalwood, high-quality perfume candles can absolutely transport you and help a space feel significantly more luxurious than it would otherwise.
Creating an Emotional and Atmospheric Setting With Scented Candles
Since candles possess such powerful qualities, it is easy to generate a specific atmosphere with them or create an emotional sensation or connection. As decor pieces, they certainly stand out for their versatility and subtle beauty, but the primary function of a scented candle is, after all, to release its aroma throughout your home in order to create a certain mood or sensation.
Knowing how to place your candles throughout your home is only part of getting the most out of them however. Certain fragrances complement certain home styles better than others, and are better suited for creating particular moods and feelings. Knowing which scents to take advantage of is important if you want to really pull off that perfect feeling of warmth and harmony in your home. Here are just a few examples of pairing perfume candles with the right kind of decor.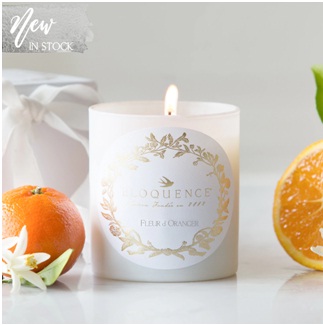 A Taste of The French Riviera
The Riveria is known for its romantic and vibrant atmosphere, which we have sought to emulate in our Fleur d'Oranger luxury scented candle. With an undertone of citrusy orange blossoms and full of sweet aromatic honeysuckle, this candle will help make your home feel fresh and sun-filled. The perfect complement to an airy French-style home full of modest pastels and floral decorations.
Unwind in This Quaint Reading Nook
Thinking of crafting the ultimate vintage-style reading nook full of elaborately designed armchairs, delicate carvings, floral arrangements, and plenty of large and readable tomes? Our French Tea perfume candle can help you add that dash of whimsical elegance you are looking for. With top notes of sandalwood, accompanied by fragrant jasmine and the welcome scent of black tea, the addition of this candle will help any space feel cozier and more relaxing.
Classical Beauty and Refinement
Want something a bit more refined for your beautiful traditional French-style home? We have crafted a sumptuous Renaissance Rose perfume candle that is sure to delight. Featuring an abundance of rose fragrance, paired with rich clove and oud wood, this is the candle you need if you want to envelop your home in an atmosphere of classical luxury. The perfect addition for anyone with an appreciation for Renaissance refinement and sensibility.
A Clean and Refreshing Space
For a scent that's subtle yet revitalizing, you could try our Homespun Linen candle. This candle combines warm scents like sandalwood and orchid, providing a flowery and inviting atmosphere that is reminiscent of breezy natural environs. If you intend on creating a delicate space in your home that is both earthy and organic, this option will suit you best.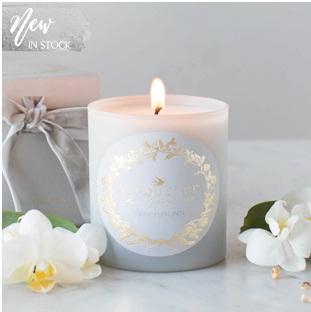 Shop For Luxury Scented Candles Here at EloquenceⓇ
It's clear that with the right kind of perfume candle, you can generate a specific kind of ambiance in your home that is at once natural yet romantic. The charm of the candle is in its ability to touch so many of our senses at once, without it being too overbearing or distracting. This is one of the reasons why many of naturally take to candles and think of them as a welcoming sight. There is something at once calming yet stimulating about them, and this effect is only compounded with luxury scented candles that are crafted with high-quality ingredients.
Above all else, when arranging your home and creating a certain feeling throughout, prioritizing quality is something you want to do. With candles, this can't be stressed enough. There's nothing more off-putting than walking into a wall of artificial fragrance. At that point, you would be better off without a candle at all. Luxury-quality candles not only produce richer, more layered fragrances, but they are also easier to take in and won't leave lingering artificial aromas.
Building a luxurious and harmonious atmosphere in your home requires an eye for the right furniture and home decor, of course, but it also means paying attention to the small details as well. The way the light plays off a certain piece of furniture, for instance, can either enhance or detract from its overall appearance. The presence of shadow, more often than not a nuisance, could potentially make a certain space in your home feel cozy and relaxing if used properly. These kinds of details are what will set your home apart and make it feel livable and inviting, when everything is said and done.
The proper use of the right luxury-quality candles can significantly augment the home decoration and styling process. These small yet impactful decor elements have a strong presence and can easily change the way a certain room feels. Whether through scent or sight, candles are a useful tool for dictating the way your home appears and the atmosphere that it contains.
Want to help generate an airy, whimsical feeling throughout your home? The delicate scent of spring blossoms can certainly help push you toward your goal. Creating a farmhouse-style home with rustic elements and a masculine slant? Try adding some sandalwood or leather into the mix and see how such a candle can enhance what you are trying to achieve.
Regardless of the ambiance you are intending to create, our line of luxury scented candles will provide you with what you need. With fragrances like Scandanavian Musk and Parisian Peony, you are bound to find a scent that resonates with you and enables you to create the perfect atmosphere in your home.
All of our luxury candles are handcrafted using the finest ingredients, such as a quality coconut wax blend and powerful essential oils. Our candles don't rely on chemical ingredients, but rather make full use of the poignant elements of nature in order to create striking, complex fragrances that truly stimulate the senses. Take a look through our selection of perfume candles and you will see for yourself why you will never have to look anywhere else for quality fragrances to fill your home with!