If you're looking for a unique, romantic, and bold sofa, look no further than a vintage velvet sofa. This is a comforting texture that's sure to make a statement.
Vintage velvet does come with its complications of course. Vintage furniture is on the older side, meaning there could be damage, stains, or damage. Luckily there are ways to easily take care of velvet that will leave your sofa looking luxurious and like new.
Here is how to properly care for a vintage velvet sofa.
What is a Vintage Velvet Sofa?
Vintage is a fancy word for "old." There is really no defining date assigned to the term, but people often think of something 20 years or older. This means almost anything can be vintage, from an 1890s piece of furniture to something built in the 90s. It's all about your own personal preference on style and material from there.
When was Velvet First Used?
Velvet is soft and plush, so it's no surprise it has become increasingly popular over the years when it comes to clothing and decor. But when did velvet first become a staple in furniture?
Velvet originated in eastern culture when it was used by ancient Egyptians. You'd see it woven into silk and linen. The technique used to create velvet was so complex, however, that only the very, very rich could get their hands on it. Other samples of velvet were found in China dating back to 400 BC. Velvet remained a bit under the radar, however, until around 1400 to 1600.
Velvet first started gaining attention in the west where it became popular with nobles. It's rumored that Henry VIII even used velvet in his bathroom! Europeans introduced velvet into the Silk Road trading route that connected east and southeast Asia with east Africa, west Africa, and southern Europe. Italy was the first European country to have a velvet industry, using it in furniture, upholstery, and curtains — mostly for the rich.
Velvet became more widely available during the Industrial Revolution. It was a staple of the fashion and decor worlds in the 1900s. You'd often see evening gowns made of velvet or dining chairs at fancy restaurants utilizing the texture. Velvet became well known in the 1920s as part of the Art Deco style.
Celebrities favored velvet in the 1970s, using it in a variety of surprising ways. From catwalks to living rooms, velvet was becoming quite the trend. From laid back and bohemian homes to high-class homes, velvet has a way of fitting into a variety of styles depending on the piece of furniture. No matter your style, velvet is sure to make a statement.
How to Take Care of Velvet
If you're looking for a more classy, elegant velvet style, look no further than our velvet sofa. But if you're going for vintage or antique, you definitely want to keep in mind how to take care of velvet to keep your sofa looking clean and bold.
Velvet is soft and luxurious, but it's also a bit high maintenance. It can be flattened, matted, or shrink if not cared for properly, leading to a loss of design or form. If you want to keep your antique velvet sofa looking its best, here's what to do:
Don't expose your velvet couch to heat or pressure
Don't let your velvet get wet at all
If it does get wet, don't blot spills; let it air dry instead
Use steam to remove wrinkles
Never iron velvet
Put your velvet couch in a well-ventilated area
Consider a couch cover if you have rowdy guests over
Don't let people sleep on your couch or use it for long periods of time
With proper care, you'll have your vintage velvet sofa looking brand new for decades to come.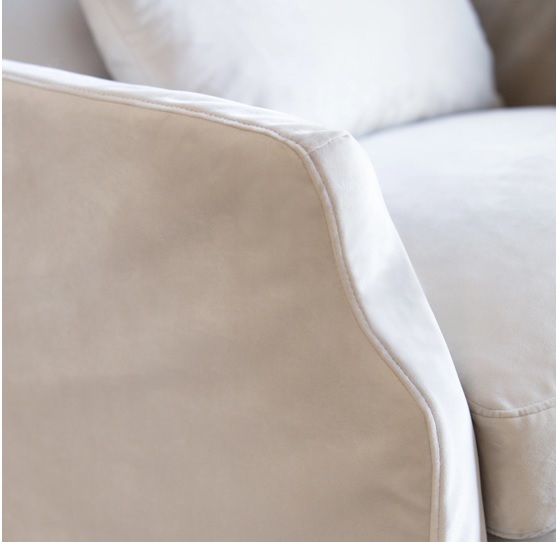 General Care
Velvet can remain soft and appealing with general maintenance. Vacuum the fabric at least once a week. You can also use a soft bristled brush, brushing in the direction of the fabric.
Never leave anything heavy on your couch. This can cause marks and dents. You can remove these with light steaming and brushing.
To prevent wrinkles, shake cushions and covers if they can be removed. This can avoid creases that
Cleaning Spills
Large spills should probably be taken care of by a professional cleaner. But a small stain can be managed at home with the right care.
Avoid rubbing the area. Instead, blot the spot lightly with a dry cloth. Too much pressure can lead to the damage to the weave. Use a hairdryer from a distance to dry the spot. Then softly brush the area to stop it from matting.
Color Fading
Fading naturally happens when furniture is exposed to light — whether it's the sun or an indoor light. Velvet, however, is particularly sensitive to color fade.
To avoid it, put your couch in a spot without direct sunlight. If that's not possible, try keeping the blinds down whenever possible. You can also drape a blanket over the sun-exposed area to protect your couch. Another option is a couch cover.