One important piece of furniture that brings your living room together is the coffee table. It's often at the center of the action and a key focal point — in front of the couch and visible from all areas of the room. It has become a decor staple over the years, whether it's to let guests put their feet up while watching a movie or showcasing some of your favorite books and collectibles.
Whether you are looking for vintage coffee tables for sale or modern reproductions, there are some things to keep in mind when picking out the perfect coffee table for your living room.
Here are some helpful tips on how to find the right coffee table for your room.
Location
Coffee tables can appear in a few different rooms, each of which comes with its own functionality. A coffee table in the living room is often more formal and is used to elevate your style. A coffee table in a family room is usually sturdier and provides more functionality.
No matter which room you choose, the coffee table is meant to be the centerpiece. While it may not be the standout piece in the room, like a sofa, it's the most central piece of furniture that's meant to bring everything together. Because of this, you'll have to pick one that has the right style, size, and material to elevate your decor.
Material
Over the years, coffee tables have varied in style and appearance. There are so many materials to choose from these days. To narrow it down, check out your current living room. What are the other colors and materials that stand out? Here are the most common coffee table materials:
Wood: This is the most traditional but you can find more dynamic wood by picking mahogany or walnut. These darker colors will make your coffee table a lot bolder and sophisticated. Of course, some rooms look great with light wooden touches.
Glass: A lot of coffee tables have glass tops, which gives them a classier and more elegant vibe. A coffee table that's all glass, including the legs, can also give off a modern, minimalist feel.
Metal: If you're looking for a more bold coffee table, one with metal finishes is a great find. These industrial coffee tables will create a study aesthetic, giving off a stronger vibe.
Stone: This unique material is sure to make a huge statement in a modern living room. It's heavy and durable, and can appear historical and impactful.
Marble: Marble is often the symbol of wealth and class. You'll notice a lot of vintage coffee tables for sale at Eloquence are made of marble, giving them a stoic and proud appearance.
Leather: An interesting option is leather and other softer materials. Leather is also safe for small children and you won't hit your knee on the corner of it. A leather coffee table can look sophisticated, however, when paired with industrial and metal furniture.
Shape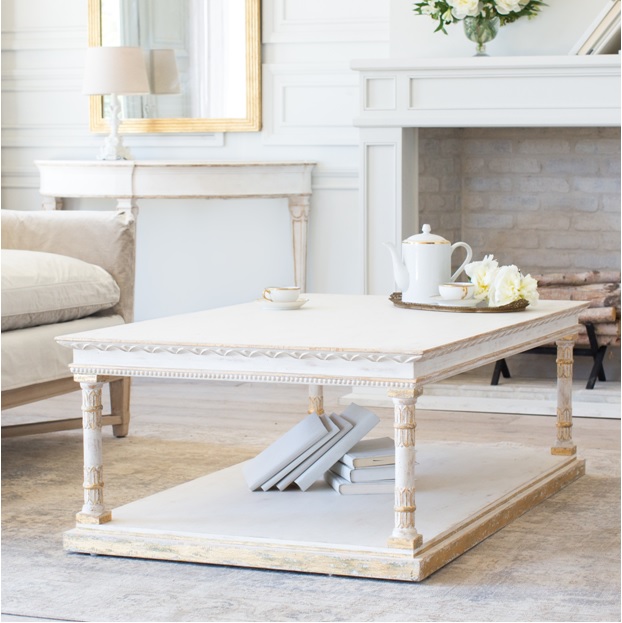 The flow of your living room and the existing furniture will often determine what shape the coffee table must be to help it blend in or stand out. Your seating configuration is the ultimate deciding factor on the shape of your coffee table.
A rectangular or oval coffee table is often spotted in smaller rooms while square and round coffee tables work better in a larger space and with bigger furniture. People also use round coffee tables when they have children to avoid them getting hurt. Abstract coffee table shapes can work in any room as long as your goal is for the coffee table to stand out and make a statement.
Size
The size is also a big deal. You'll often want to measure your living room and its furniture to figure out the perfect size coffee table that would properly fit in your space. You want it to be proportionate to your furniture or it could end up overpowering or underwhelming. You most definitely need people to be able to walk around the coffee table, so there should be at least a foot and a half between the table and the sofa. It should also be around the same height of the sofa or lower.
Functionality
If you have a modern aesthetic, you are probably a minimalist who believes that the less stuff in your room the better. This could mean one of two things:
Getting a coffee table that's slim, sleek, and made of glass that's almost see-through
Getting a coffee table with extra storage to hide your controllers and other nicknacks you don't want showing
Most coffee tables have a flat surface so you can put drinks and books and other things on top of it. This is an additional way to display things in an organized and impactful fashion. Other coffee tables have shelves, drawers, and departments for extra storage. You can even use a trunk or ottoman as a coffee table.
Some coffee tables can be raised so you can work on them or use them for eating. There are also coffee tables with wheels so you can roll your coffee table out of the way if needed.
Questions to Ask
If you're looking for a new coffee table, there are a few things to consider outside of the table's looks. Here are some things to ask yourself before purchasing a coffee table.
How will it be used?
Is this coffee table a place to rest your feet? Is it to display some beautiful vases? Is it to provide more space for you to put your food? Depending on your intended use for the coffee table, you'll be able to better choose size and functionality that makes sense. If you are looking for more storage, you'll want to look for a coffee table that has storage and drawers.
How is your furniture set up?
If you have an L-shaped couch, it's almost mandatory that your coffee table be square so it fits into the furniture layout. The space you have left for your coffee table will also determine the size and shape.
What's your room's style?
Take note of the materials and colors and style of your living room. You need to make sure that your coffee table matches this aesthetic. For example, if your couch is leather, a wood and metal coffee table will create a bold look. If your couch is bohemian and covered in colorful blankets, a white coffee table may create balance.
Where to buy a coffee table?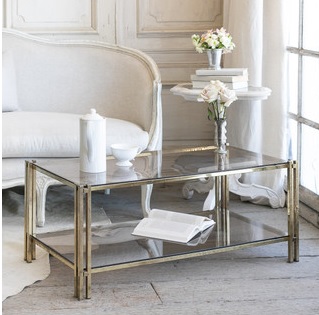 Here at Eloquence, we have a great collection of vintage coffee tables for sale that are elegant, bold, and detailed. The coffee tables range from marbled with claw feet to glass with straight legs. If you want to know which coffee table will work for your living room and your needs, feel free to reach out!