French inspired bedroom decor has a certain elusive quality when it comes to understated elegance.
The French inspired bedroom decor features gilded mirrors, white linens, and antique chairs in a playful arrangement. It's a feminine style that makes use of muted tones, natural materials like whitewashed oak wood, soft linen, and light to help you relax and unwind from the hectic pace of urbanization.
In this article, we will help you freshen things up a bit and bring the French aesthetic into your own bedroom by using carefully picked pieces that can be found here at Eloquence.
Florals and Scented Candles
The atmosphere of your French bedroom should be one of tranquility and repose. As a result, bedrooms decorated in a French manner typically avoid using vivid colors.
The French adore fresh flowers. Check out this calming spring design to nail the fashionable French style and achieve the look you're hoping for if you're going for a genuine Parisienne vibe.
Regardless of where in the world you call home, this is one of the simplest ways to give your bedroom a Parisian vibe. You'll be greeted with a pleasant aroma and a tinge of happiness each time you glance at the fresh flowers that you've placed around your bedroom.
The French are known for their fondness of using candles as a decorative element throughout their homes. Ultimately, you can make the space more cheery by incorporating flower arrangements, strategic placement of candle cloches combined with perfumed candles, and vintage trinkets that draw the eye into the display.
The Bed
The pinnacle of chic statement furniture is a sumptuous bed with button-tufted upholstery done in a French design. It doesn't matter if your taste leans more toward the luxurious and decadent, or if it's more on the modern side, we have an upholstered bed for you.
For a room that exudes a sense of modernity, choose the Eloquence® Sophia Bed. This bed is fashioned in the traditional demi-corbeille style popular in France and is designed to become an heirloom that will be passed down to future generations.
Choosing muted hues, such as neutral linen upholstery, will provide you the opportunity to add accent colors. If your sense of style is more statement-making, there is nothing quite like a velvet bed, or silk upholstery matched with a gold frame, to immediately draw the eye to a room. Combining it with a variety of other patterns and a luxurious Eloquence® Fontaine Chandelier in Burnished Iron will create a look that is authentic to the modernistic French aesthetic.
The Dresser
To finish off the look you want to achieve in your French inspired bedroom decor, you will need to add one more substantial piece. In addition to this, you need something that is excellent for storage purposes as well as to display antique decor on.
This is where a dresser can be of use.
This component is essential for storage as well as aesthetic purposes, as it may offer a much-needed subtle amount of gravity and even color to an otherwise colorless and weightless space.
Every single one of our dressers provides a great amount of storage space because of the many drawers that they have, while also serving to complement the appearance of the rest of the room thanks to the intricate carvings and handles that they include.
This Bordeaux dresser features not one, but two distinct two-tone color schemes, each of which treads a tight line between polished and worn-in appearances. The design of this item has been given an understated elegance thanks to hand-applied distressing as well as simple lines.
The Nightstand
If you are in the process of redecorating your bedroom, you may be looking for the most beautiful nightstands in the French country style to place next to your bed and use as storage for your nighttime necessities.
Nightstands are used to store your smartphone, books, and sleeping masks. If your bedroom is currently designed in a French country design style, you will most likely desire a stunning nightstand that complements the existing décor.
The Eloquence® Elisabet Nightstand is an elegant piece of furniture that will look great next to your bed. The nightstand has a design that is basic and uncomplicated in its appearance, and it will offer a bit of soft texture as well as elegantly complement a French or Swedish country bedroom decor.
Dining Chair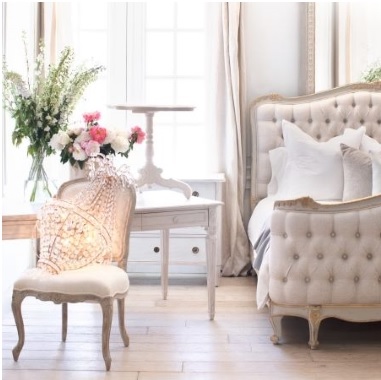 Bringing a dining chair into your bedroom can give it a touch of French elegance. If you do this, you'll have the perfect place to curl up with a book or just take some time for yourself.
This can serve as a seat, an additional wardrobe, or both. If you're having trouble settling on an outfit for the day, you may always utilize the chair as a makeshift changing table.
Strong and graceful, the Colette Dining Chair takes its cue from the Louis XV style to bring a touch of classic elegance to your dining area or bedroom.
And there you have it! Learn the ins and outs of designing a chic French inspired bedroom decor. I'm hoping this detailed tutorial will assist you in bringing a touch of France into your own bedroom. Shop these curated pieces only here at Eloquence®.