Your dining room can either be the heart of your home or a rarely-visited and obscure locale that only matters during holidays and special occasions, if even then. Rather than going unused, with a few changes this room could become an attractive and inviting space that will add to the value and functionality of your home.
Using quality furniture such as a vintage farmhouse trestle table to improve your dining room is one way to change how it looks, feels, and functions. Regardless of how much space you are working with or how often you have used this room in the past, with a few decor adjustments, you could easily make this one of the prime locations of your house.
The following guide will cover everything you need to know in order to make your dining room stand out, with important decor tips and furniture ideas that are sure to kindle your imagination. This part of your house doesn't have to be neglected and obscure if you take this advice into account and invest in a few high-quality furniture pieces.
Making Your Dining Room More Livable
The main reason why your dining room may not be getting the attention it deserves is because it isn't livable enough. It's easy to neglect this space in favor of other areas of your home, especially your family room and bedrooms, which we typically think of as places of rest, relaxation, comfort, and fun.
No matter how much effort is put into a room, if it isn't functional and livable, no one is going to want to use it or stick around inside it for very long. Even during holidays, if you get the feeling that your guests are simply itching to leave your dining room in favor of greener pastures, it may be time to rethink your approach to this space. Hint: it's not all about serving big meals!
That's one point that is useful to get past if you want to improve the quality of your dining room. Think about your living room or other areas of your home, and how multifaceted they are. We rarely do one thing and one thing only in a certain room. If all your dining room is suited for is formal dining, that's all anyone is going to want to use it for, and even that might be a stretch.
If you want your dining room to feel inviting and engaging, you might want to think outside the box a little in regards to the furniture you use, the style of your decor, and what kinds of features that the room has to offer. While this may not seem like the typical angle to take when decorating for a dining room, you will be able to improve this space so much more with a little thought in this direction.
What Are Your Goals For The Room?
When creating the perfect dining room for your home, you want to take some time and jot down the goals you have for the room. This little exercise will help you frame your intentions in order to nail down exactly what you want to get out of this space. In order to put together a room that meets a certain level of quality, you have to understand your own expectations. Are you aiming for a luxurious yet cozy setting that brings people together, or is your aim more aesthetic in nature? Are you out to craft a room the whole family will love or is your goal to regularly entertain friends on the weekend?
Once you have a clearer picture of what you want out of the room, you will be able to select furniture and decor that much easier. It will also help you realize what the room is currently lacking, both in terms of functionality as well as visual appeal. The aesthetics of the space can often factor heavily into how people may feel about it. Dining rooms in particular often suffer from a feeling of stuffiness or being too overly formal, even in otherwise cozy homes. This is why no one wants to remain there for very long, because they may feel hemmed in by claustrophobic visuals and ornate decor.
While there is nothing inherently wrong with putting together a formal dining area in your home, if you want to solve the mystery as to why no one ever uses this space or seems to enjoy staying in it for very long, this is one aspect you will want to be critical of. You can create an air of luxury and formality in a much more subtle way, through the use of high-quality furniture pieces and select decor items.
Another way in which you can alter the way your dining room feels is by controlling the space that's available. Too often, our dining rooms become crowded and stuff due to tables that are too large or too much furniture in too small a space. This isn't appealing for anyone, regardless of how nice it is to cram the whole family together during holidays. If you want to keep everyone seated and enjoying their time, be mindful of the space that everyone is afforded.
Painting a clear picture of your goals and keeping everyone's needs in mind will allow you to pick out just the right furniture pieces and will help guide you when putting together a coherent look for the whole room.
Start With a Beautiful Farmhouse Trestle Table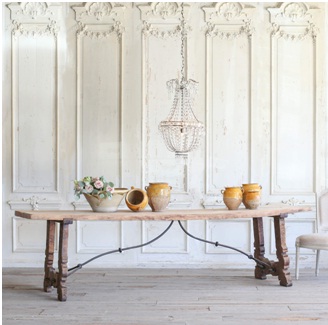 Whether your home has a comfortable cottage aesthetic or a more traditional Provincial feel, a farmhouse trestle table may be the ideal place to start if you want to completely transform your dining room. These stately and elegant pieces have a timeless look and are incredibly functional, providing ample space and refined visuals that will immediately add value to any space.
There are several varieties of vintage-style dining room tables that you could utilize to enhance your dining room depending on the overall aesthetics of your home, but a well-designed trestle table with delicate weathering and a strong frame would easily provide an instant eye-catching focal point for the room. These tables also have a down-to-earth, casual feel about them despite their obvious inherent quality and meticulous designs.
When selecting your table, you simply want to be aware of the space that you have to work with in your dining room. It's essential that you don't try and cram in a table into a space that doesn't support it. If you find that your dining room is too small to accommodate a large trestle table, yet you still want to create a beautiful dining space with one, consider using one of these kinds of tables in a patio setting or large covered porch. Either way, your dining room should remain somewhat spacious in order to prevent those tell-tale feelings of stuffiness and congestion.
Choose Your Dining Chairs Wisely
With an appropriately-sized table, it will make selecting your dining chairs that much easier. It's important to note that not every dining room needs to accommodate a dozen people. Some tables are simply not suited for so many heads, and not everyone has the required space to fit such a table as it is. Conversely, if you do have enough room to sport such a stately and elegant table in your dining room, you still want to leave enough space to maneuver around. This will increase the comfortability factor in your dining room and also enhance the visual aspects of the room as well.
When arranging any room in your home, whether it's your dining space or anywhere else, also consider the areas in between your furniture and decor. While there are certain times when carefully-implemented clutter can be a good thing, such as a bookshelf slightly overcrowded with interesting statuary, in general it's best to be avoided. You always want to make sure that your furniture pieces have room to stand out and breathe on their own. Your dining chairs are no exception.
You also want to consider the style of your dining chairs. Here at EloquenceⓇ, we have a beautiful selection of antique-style dining room furniture to choose from that would act as an excellent complement to your farmhouse trestle table. Whether you are looking for chairs that have soft tones and graceful curves, or ones that are bit more masculine and stately, you will be able to find the perfect ones for you in our online store.
It is certainly worth noting that your dining room chairs should be comfortable. While all-wood hardback chairs do have a certain appeal to them, think about the comfort you are providing in your dining room and what you can do to keep your guests in their chairs instead of seeking out the living room sofa just as soon as they are done their meals. Our line ofbeautiful vintage-style chairs emphasize both elegance and comfort, so you can be sure that you are creating a dining room that is not only attractive, but completely functional as well.
Sideboards and Other Accents
Chairs aren't the only pieces of furniture that you can use to accent your dining room table. In order to get the most out of this space, you will want to make it as functional as possible without overcrowding it. The addition of an elegant antique sideboard can be one way to enhance your dining area in a way that is both usable and aesthetically pleasing.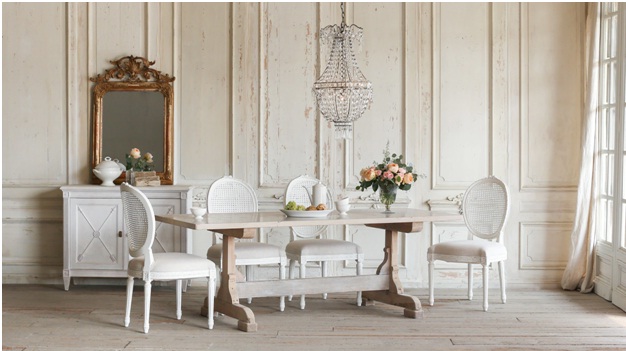 Sideboards are great pieces of furniture because they not only can be used to house important dining items such as extra flatware, dishes, serving utensils, candles, matches, placemats, clothes, and other tools, but they also make excellent places for decor. You can use a sideboard to create a certain mood in your dining room, or use it in a purely practical manner for serving trays, fruit bowls, teapots, or similar items.
If your dining room can comfortably accommodate one of these useful pieces of furniture, consider adding one behind the head or foot of your dining table. This way the piece is less likely to interfere with anyone coming and going from their seat, and will allow you to better access the items within it. A beautiful china cabinet is also an option here that serves a similar function, but it's important not to add a piece of furniture that you won't get much use out of. Emphasize functionality and you will create a much more welcoming atmosphere for your dining room.
Decor Ideas For Your Country Farmhouse Dining Room
To put the finishing touches on your farmhouse-style dining room, pay close attention to the decor items and other elements that you add to this space. You want to create a welcoming and cozy atmosphere even if the overall look you are trying to achieve leans more toward stately and luxurious.
Regardless of the atmosphere of your home, your dining room should feel inviting and not put people on edge with an abundance of needlessly fragile statuary or china dotting the room. With natural and earthy elements such as wooden bowls and terracotta pottery, bronze items and statuary, linen, florals, and greenery, the feeling of the room will be far cozier. With plenty of space to move around and a more simplistic design that feels livable and warm, your dining room is sure to become the focal point of your home at last.
If you are searching for a high-quality antique trestle table, beautiful dining chairs, or other elegant accents, be sure to take a look through our online catalog of items right here at EloquenceⓇ. Not only do we carry an amazing selection of fine antiques that you can include in your home in order to provide an instant feeling of luxury, we also have an exquisite line of reproductions as well. You can reach out to us at 310-876-0661 if you need more information about our collection or need additional advice on which pieces might be best suited for your dining room space!