Decorating your home to emulate both your personality and style can be an exciting experience. When you find that perfect piece to situate in the most pristine location, the emotions evoked are unequivocal. Your house slowly becomes your home, a welcoming place to be yourself freely but also for guests to enjoy and feel at home, too.
As enjoyable of an experience as it may be to decorate your home, it can also undoubtedly be taxing on occasion, especially when dealing with a light-deprived space. However, when you choose to adorn your living spaces with unique and stunning pieces of yore, you are more likely to create the look and feel you're searching for while providing your sought-after brightness.
That is where antique furniture can effectively get the job done. At Eloquence, we proudly provide our customers with unique and beautiful pieces of varying styles, including vintage and antique styles, to perfectly decorate their homes.
One of the most vital rooms in your home that requires the most attention for adornments is the living room. This is due to the fact that, when you have guests over, this is the room they naturally and most often gravitate towards for congregating. Plus, it is the most common room for you and other residents to relax and unwind.
When placing principal furniture items such as sofas, chairs, and even settees in your living room, you need to be wary of the heaviness and darkness of these items because you don't want to be counterproductive. You want them to instead bring more light in, not erase any semblance of it.
Coffee tables and other such functional elements are mandatory to study closely as well. We recommend using antique coffee tables specifically, as there are numerous advantages to these particular pieces, one of which being they can bring light into your home.
So, the short answer is yes-- antique coffee tables can indeed brighten your living room.
But, what should you look for in antique coffee tables in order to bring the most light into your dark living room? Let's look at various characteristics to look out for in order tobring out the most brightness in your living room and, ultimately, your home.
Antique Coffee Tables
Who doesn't love the stunning look of an antique furniture piece? Antiques are perfectly imperfect, a symphony of intricacy, beauty, and authenticity, bound to perfectly bring any room together. This is what a coffee table that is an antique can do for you and your living room, too.
Many people, unfortunately, view antiques as being dark and heavy, even potentially overpowering in any room in which they inhabit. However, this simply isn't always the case.
There are a large number of antique styles to choose from: Elizabethan, Rococo, Gothic, Victorian, Louis XVI, Renaissance, and many more. Each of these styles brings its own unique attributes to any room and home, but in order to invite more light with them, you'll need to study certain characteristics of each one, not only select the piece based on its style.
Structure and Color
When you first look at any piece of furniture, you typically notice two things right off the bat: its structure and color. Therefore, this is what you should admire and investigate first and foremost.
The structure of your coffee table should have relatively thin and clean lines, as this will disallow it from looking too bulky. Having too much curvature as well can be too imposing on your space, so keep an eye out for structures that are too bulky and/or too wide.
The table in general should not be too large and overpowering as well. Its size in terms of both height and length should be closely observed, as pieces that are too big in any manner can take away from the room's beauty and style, along with its vibrance.
Color is one of the most important aspects to consider when it comes to inviting brightness into your room. For example, finding a piece that is mahogany or any other deep, swarthy color can create the opposite effect of what you want.
Instead of utilizing a piece that is of dark colors, opt for the lightest color options. These can include white, eggshell, light gray, light teal, and even light brown. These will warm your space while also shunning shadows and darkness from it.
Legs and Feet
The legs and feet are the next characteristics for you to study closely. As aforementioned, opt out of using a table that has substantial curves. Tapered legs can be difficult to come across with antique tables in general, but look out for tapered feet, as these are more preferable for lightness.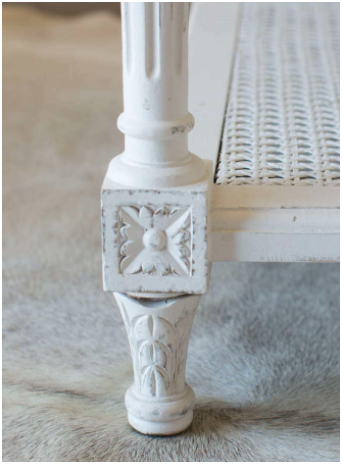 Carvings
Carvings are an attribute that you should look for in any antique piece, regardless of how dark or light your room is. These are key elements to any antique furniture, as it is a large part of its personality and distinctiveness.
Having said that, you should look for coffee tables that have been hand-carved. Handcarvings will typically provide you with more delicate carvings and, since gaudiness is something you should steer clear of, it will properly provide you with what you need in decoration.
Beveled Glass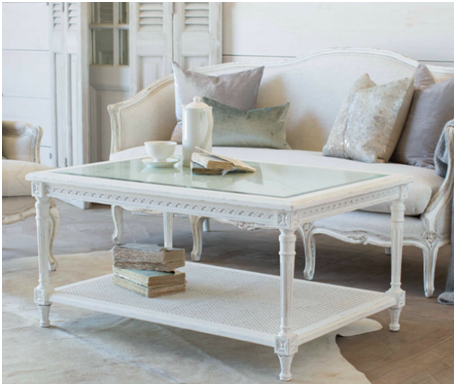 Transparency is key for lightening a room in weight and vibrancy. One of the most classic ways of attaining that transparency is with glass. Therefore, you should obtain a coffee table with glass.
Beveled glass, in particular, is one that will invite the most light into your home, as it refracts light as a prism would. Opt for a coffee table that has this type of glass on its top. The more beveled glass available, the better off your living room will be in terms of brightness and aesthetics.
When shopping for antique coffee tables to best bring out the most brightness in your home, be sure to sift through our many stunning antique table offerings. If you have any questions or concerns, please give us a call at (310) 876-0661 so we can best assist you in adorning your home in the best ways possible.