Is there any better feeling than when you enter a room that is fragranced so well that you stop in your tracks to fully enjoy the invigorating scent? It's an especially magical moment that is furthered when that scent so perfectly matches your mood and even the room you're in.
At Eloquence, we are proud to provide all of our customers with outstanding furniture pieces to complement their rooms, homes, and individual styles. We are also proud to provide them with luxury candles that have been hand-poured with care in California and made with a natural coconut blend to further enhance their home experience.
These perfumed candles make any room feel more comfortable for people who live in that particular home or are visiting for a short while. They're naturally made with alluring scents to make your home a more pleasant place to be.
But which of our candles pair the best with which rooms? Let's have a look at our best luxury candles and which rooms they best complement in your home.
1.The Kitchen
When entering your kitchen, you require a scented candle that is perfect for masking the aromas from cooking. It should not only cover those scents but also the strong stenches from the trash can, recycling bin, gas from the stove top (safely), and cleaning products. The kitchen is one of the most important rooms in the house that requires a candle for assisting in refreshing its air.
We have a couple of great luxury candle options for accomplishing these goals in your kitchen, but the most impressive candle for your kitchen is our perfume candle in French tea.
Much like its name implies, there are pungent yet soft scents of tea in this candle. Dry oolong is delicately mixed with dry sandalwood, hints of citrus, and jasmine in this luxury candle. It has 60 hours of burn time for enhancing the fragrance in your kitchen. You'll want to spend more time in your kitchen than anywhere else in your house with this candle in it.
2.The Bathroom
The bathroom is yet another room in your house that requires constant adherence to scent. We all know that this particular room needs products to overtake displeasing aromas, distinguish them, then freshen the air that remains.
With our Rococo red currant luxury candle, your bathroom's scent and air will be completely rejuvenated. It has base notes of bergamot, which is a common citrus scent used to freshen the air in a bathroom. It's an all-natural and fresh candle ingredient. This candle also has other enticing scents mixed in, like white rose and woody oak moss. The combination of these aromas with mid notes of cassis create an exemplary candle for your bathroom.
Much like the aforementioned candle, there are 60 burning hours for the Rococo red currant candle. You can therefore enjoy the revitalizing scents of this candle to perfectly mask unwanted scents in your bathroom.
3.Living Room/Sitting Room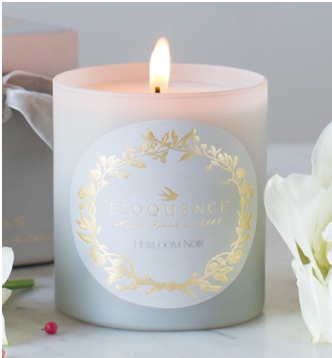 As most guests tend to gravitate towards the living room and sitting room of another's home for lounging, it's imperative that you have candles available in these rooms as well. Guests should be welcomed by your undoubtedly comfortable and beautiful furniture in either of these rooms, but they should stay for the company and the soul-warming scent surrounding them.
Our Heirloom Noir candle is the perfect accent for your living room and/or sitting room. It utilizes the alluring aromas of creamy lilies, pink pepper, and pomegranate. Interestingly, it also incorporated patchouli, which provides a well-rounded scent: woody, earthy, spicy, and musky. This candle holds 60 hours of burning time, providing you and your guests with a pleasant and relaxing scent.
4.Dining Room
Providing the dining room of your house with luxury candles is always an excellent idea. Just like the kitchen can hold onto scents from cooking, the dining room can do similarly. In order to purify the air of your dining room, especially before and after a dinner party, you will need to add a lit luxury candle in the middle of it.
Our Fleur d'Oranger is the perfect antidote for unwanted leftover food aromas. Citrus has long been known to eradicate undesirable scents, so this candle would be perfect to utilize in the dining room. This candle has orange blossom, but also honeysuckle for a hint of sweetness and eroli, which is a healthy combination of citrus and sweetness on its own.
With this candle lit at the center of your dining room table, your guests will not solely be impressed with your cooking and company.
5.Bedroom
The bedroom is a personal space for you and/or your significant other. It should be a room that is calming and relaxing, a place to wind down from a restless and exhausting day. In order for you to reach the utmost comfort and at-home feeling, you will need to light an appropriate candle to further assist you in winding down.
There are two sublime candles for this room. The first is our Renaissance rose candle, which expertly utilizes the scents of the classic rose and sweet honey. This duo comes together to create an inviting and heart-warming scent. It also encapsulates the warmth of cloves and smoky oud wood to further the relaxing properties of this candle.
The second option of candlesto perfectly complement your bedroom is our Scandinavian musk. Milky vanilla and patchouli match seamlessly to bring your bedroom an unforgettably soft aroma. These two also mesh together with plum, violet, and leather to further efficacy in bringing peace and tranquility to your bedroom.
No matter which of our luxury candles you select, it will undoubtedly provide you, your family, and guests with inviting and refreshing aromas in any room. Be sure to peruse all of our luxury candle options to find the right one for you and your home. Feel free to call us at (310) 876-0661 or email us at info@eloquence.com so we can properly assist you in completing your home.