As you look around your living room at the beautiful arrangement you have made, you may be concerned that your carefully selected pieces will become tarnished in just a short amount of time, despite your best efforts. In order to prevent such things, we often suggest people consider using a settee slipcover for their seating to protect their furniture, while preserving the overall look you have created.
Easy to Clean & Use
Perhaps the most transparent benefit of using a settee slipcover is that it protects the furniture and allows it to stay clean for much longer. Most of the spills or dust that would normally settle on the furniture will instead fall to the slipcover, which catches all of that and allows you to clean everything up neatly. You may have experienced the frustration before of leaving a spill on your furniture and hoping it will come out with some spray and a little extra effort. Cleaning furniture can be incredibly irritating, so it is better to avoid it whenever possible. Of course accidents will happen, that's just life, but we can set ourselves up for a better situation when those mistakes do happen. Those with small children or grandchildren will definitely benefit from getting slipcovers for the furniture. With slipcovers, whenever there is a spill, you can just remove it from the furniture and set it to wash. Once it has fully dried, it can go right back onto the furniture like nothing happened. It is such an easy solution to a common problem that we have to encourage everyone to give it a chance for themselves. Keeping your furniture free and clear of stains also helps to maintain the condition of your settees and other pieces for much longer, allowing you to keep them around for longer.
Fresh, Elegant Style
Since your settee will be almost entirely masked by the slipcover, the way that it looks will be determined by the fabric you choose, which can actually be a blessing. Using a settee slipcover over your living room pieces can help give them a more uniform, elegant style. The fabric is designed to be fitted, but still drapes over the seating gracefully. Altogether it creates a clean and polished look across your living room with each piece matching the next perfectly. Our slipcovers at Eloquence are a far cry from some of the ones you may have seen growing up, which looked ill-fitted and out of place. Our designs are much more subtle and sleek, so they can fit beautifully into your home with ease. We also offer a wide variety of seating with slipcovers so you can have options finding the best ones for your home. They are created with neutral colors of Harvest linen, tailored to perfection, and ready to grace the furniture of your home.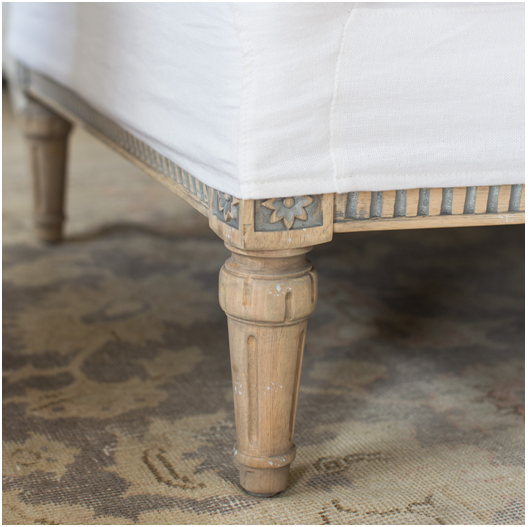 Completely Secure
Since furniture is typically meant to be used and not simply looked at, we wanted our pieces to be practical as well as stylish. A common apprehension we see regarding slipcovers is that the owners do not want the fabric to pull up and shift while on the furniture. We understand this concern, but want to ensure you that you do not have to worry about this with our pieces. Each settee slipcover is designed with strategically placed Velcro strips and metal and elastic clip attachments to create a secure, strong hold on your seating that won't move around from being sat on throughout the week. These closures are secure, but still easy to remove when you decide it is time to take them off to be washed. With these closures and the sturdy, durable fabric, you do not have to fear the slipcovers losing their hold or tearing at the seams. They will hold up over time even as they are put to use frequently.
Affordable Option
In many cases, using a settee slipcover becomes a much more affordable option than leaving your furniture exposed. It keeps your furniture presentable for much longer and saves you the frustration of having to swap out your furniture for newer pieces because they have become too soiled to use. Slipcovers can also help when it is time to replace a piece of furniture since you may not be able to get a replacement that fully coordinates with the rest of your furniture. The slipcover can hide those minor differences and keep your interior design looking clean and polished.
Now that we have said our piece and shared our thoughts on the benefits of using a settee slipcover, we will pass things over to you. Feel free to browse through our shop and see what kinds of designs you might like gracing your home, with the security of protective slipcovers shielding your upholstery from damage. We have a considerable range of slipcover options at Eloquence for you to choose from, so take your time looking and feel free to ask us about any of our pieces if there is anything you would like to know.