Lighting fixtures are far too often neglected as far as home decor is concerned, yet given how strongly items such as lamps and chandeliers can impact your living space, more attention ought to be paid to them. A lovely vintage chandelier is one way to immediately change the atmosphere in any space, not only because quality chandeliers are beautiful in their own right, but also because they improve the lighting quality, which may bring out the best features of your furniture.
This two-fold aspect of the chandelier is why they are so valuable in terms of beautifying your home. With ease, you can shift how a room feels simply by adding more flattering lighting, which can be especially useful if you just don't have big enough windows to allow enough natural light into your home at different times of the day.
As artistic pieces, vintage chandeliers stand out with their incredible craftsmanship and unique qualities that are hard to come by in other kinds of furniture and decor. With the addition of one of these beautiful chandeliers, you can infuse a refined, elegant feel into any room of your home.
Chandeliers work especially well for larger rooms where traditional lamps and other sources of light may not do the job as well as you would like. This makes them far more than simply statement pieces, but practical additions to your home as well that you can rely on to properly light certain areas that would otherwise look dull and unflattering.
Regardless of your specific needs, it's important to be able to understand how a certain variety of chandelier may complement your decor and fit perfectly in a particular area of your home as opposed to another. This quick guide will help you
Finding the Vintage-Style Chandelier That's Right For You
Here at Eloquence®, we have a wide selection of vintage-style chandelier options for you to choose from that could help you create the perfect look you want in your home. From eye-catching medieval-style chandeliers to delicate and feminine options that utilize elaborate glass motifs, you are sure to find a piece that will fit the style you are looking for.
We also have an array of beautifully reimagined pieces that may provide you with an even greater deal of inspiration. Our line of hand-crafted vintage-style chandeliers are breathtaking in their designs and truly capture the spirit and romantic qualities of the original pieces, while providing modern-day functionality.
An elegant piece infused with artistry and charm, this chandelier includes a prism in the center surrounded by a flurry of beautiful crystals and attractive chains, creating a truly impressive design that would help you easily transform key locations in your home such as your dining area or living room. Would look amazing hanging above a gorgeous Scandanavian sofa and ornate whitewashed coffee table.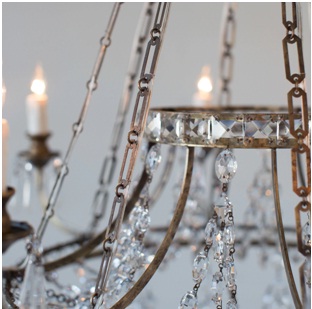 This is the kind of chandelier that conjures images of traditional Swedish refinement. With beautiful curved arms and rings of crystal, this piece would work well in a variety of home styles without appearing overdone. An excellent choice for medium-sized rooms such as modest-sized living rooms and dining nooks, as well as bedrooms and dens.
This striking chandelier is absolutely overflowing with crystals that glint and reflect the gold leaf to create a fiery and feminine piece that would work perfectly in a stately dining room or parlor. Pair with other gold decor items such as statuary or abstract art for a truly regal touch.
Your Source For Gorgeous Vintage-Style Chandeliers
No matter how you plan on styling your home, there's no question that a vintage chandelier can help you achieve the look you want while providing valuable functionality. Sometimes all you need in order to better the appearance of a certain space is to work on the lighting. Unwanted shadows and dim lighting in general can make even the prettiest furniture appear dull and lifeless at times.
You can browse through our selection of beautifully-crafted chandeliers right here in our online catalog. We specialize in crafting luxury-quality furniture and decor items that invoke the true essence of vintage refinement and are dedicated to helping our customers find the pieces they are looking for to give their homes an exquisite transformation.
If you are curious about purchasing one of our fine chandeliers or would like more information on which of the pieces from our collection is right for you, we invite you to reach out to us at 310-876-0661 today so we can help you complete your home the way you would like. Whether you are trying to brighten your dining room with some Old World charm, or want to completely change the way your home feels with a grand chandelier selection, you will be able to find one that fits your home right here in our store.