The French provincial interior design style is one of unquestionable elegance and beauty. In order to accomplish such a traditional and long-standing motif, several major furniture pieces and other accents are pivotal.
However, these pieces rely heavily on the chosen room you wish to display this style. For example, you wouldn't place a French provincial bed frame in your sitting or living room! That simply would be nonsensical and more of an eyesore than anything else.
It's important to keep in mind what characteristics French provincial furniture entails (both antiques and re-editions), which include:
●Scalloped and curved designs
●Cabriole legs (convex at the top and concave at the bottom)
●Lighter hardwoods; some are even whitewashed
If you are looking to create your very own French provincial bedroom set using elements you have selected independently, you have come to the right place. This is a truly creative and thrilling experience for you and your home's interior design– now and for years to come. But you may be perplexed about which items are necessary to complete such a bedroom set.
Without further ado, here are seven pieces to complete your French provincial bedroom set.
1.Bed Frame: Headboard, Footboard, and/or Canopy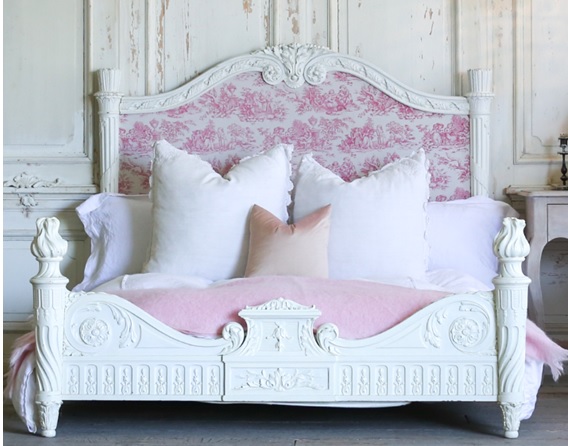 The focal point of any bedroom, regardless of its decided style, is the bed. While we can't quite guide you on your mattress selection in this case, we can give you suggestions on how to choose the most sublime bed frame for your French provincial bedroom.
First, you should know that you have a few options here but one of the most traditional is a large bed frame (queen or king sized) with an ornate headboard and footboard. These were some of the most classic and traditional options. Second, if you aren't sold on that, you could opt for one with a four-poster canopy. These, too, are quite traditional and will fit seamlessly into your bedroom (so long as they aren't as garish as Rococo).
2.Matching Nightstands or Commodes
Matching nightstands or commodes are arguably the second most important aspect of your bedroom set for nearly any design, but especially for French provincial. However, finding two antique pieces that are exactly the same can be difficult so you may have to look harder for those than you would need to for re-editions.
Symmetry is everything, which is precisely why having two matching nightstands or commodes on opposing sides of your bed is the key to design success. Plus, adding two nightstands that match increases these beautiful pieces' practicality.
3.Dressing Chest of Drawers
Another quintessential furniture piece for the French provincial style is the dressing chest of drawers. These exude elegance in their every inch, yet are highly functional as well. They can perfectly adorn your living space while also providing you ample drawer storage for your belongings and a tabletop for various items of your choosing.
Keep in mind, though, that when placing items atop this piece, you place a table runner or other such cloth to keep it safe from aesthetic damage from condensation on drinks, lotion and cream residue, sunlight fading, and so forth.
4.Floor or Wall Mirror
Mirrors are unquestionably vital accessories to any living space. Mirrors provide your space with a location to self-view, they reflect light, further illuminating your room, and they create the illusion that there is more room available than there may be.
Mirrors were always an integral part of the French provincial style, regardless of the room as well, hence why we recommend adding one to your bedroom set. Whether you opt for a floor mirror or a wall mirror, though, is your own decision to make based on your room and other accompanying furniture elements.
5.Armoire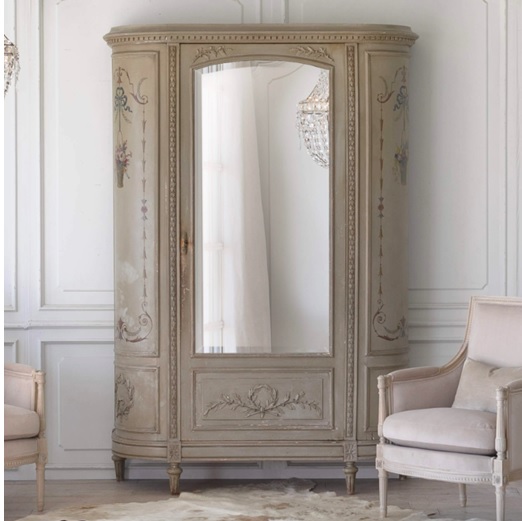 Armoires have been a part of bedroom sets for centuries, giving users a stunning, quality, and sturdy location to hang their precious garments. These seemingly obtrusive pieces are contrarily innocuous yet beautiful, making for a furniture piece that sublimely ties the entire room together with its unique design and structure.
Some French provincial armoires, mind you, come with mirrors designed into their facades. Therefore, you could really provide your bedroom with an enamoring two-for-one piece. Or, if you would prefer a more ubiquitous motif, there is an abundance of more subtle options available to choose from.
6.Bench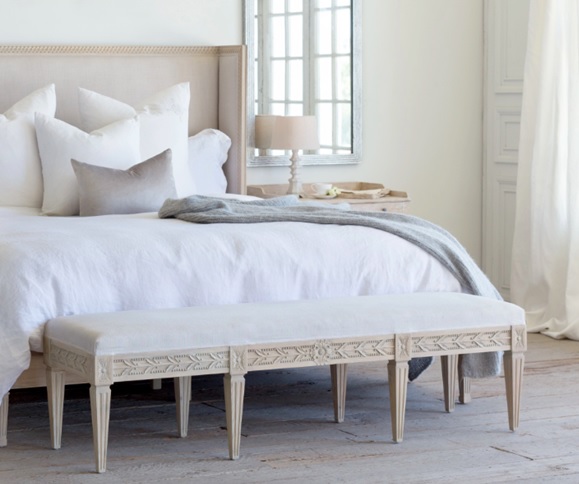 At the foot of your bed, you should also add a bench. These were classic additions for this style because they integrated unequivocal aesthetic value into the room in terms of texture and dimension. Moreover, benches provided a location for sitting and relaxing while disrobing or when the bed simply wouldn't suffice.
Today, they provide very similar advantages to you and your private living space, which is why we recommend them, too. Be sure to measure your bed frame, however, as you don't want a bench that is too long or too short for it. There should be about six to eight inches from each side of your bench to the end of your bed frame. As for the color, you can choose to your liking, so browse our re-edition French provincial benches to find the perfect fit for you.
7.Chaise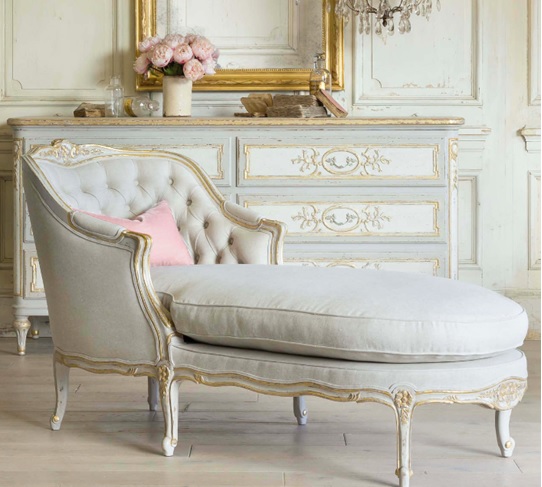 A chaise, which translates to "long chair," is an upholstered sofa that appears similar to a chair that has been elongated. It's especially ideal for lounging and reclining while still providing your bedroom with an alluring piece of furniture that boasts elegance, grace, and comfort.
You can place your chaise wherever you see fit in your bedroom. However, if you have a smaller space or simply would like to add even more texture to your room, you could place the chaise at the foot of your bed in place of the bench. Wherever you choose to place it, you will be pleased with your decision as it will efficiently tie the room's aesthetics together in an upscale manner while simultaneously providing you with a comfortable place to lounge.
We hope that our list of seven pieces to complete your French provincial bedroom set was of assistance to you while designing your bedroom. Feel free to browse our antique bedroom furniture and re-edition bedroom furniture at your leisure to find such furniture elements. If you need some further inspiration, scroll through our expertly crafted inspiration page.