Arranging a beautiful vintage-style home can be an exciting endeavor, as you utilize attractive antiques and artistic expression to generate imaginative and functional spaces that embody your vision.
The right vintage furniture pieces and decor elements are a must, however. An antique floor mirror is one such addition that can offer an array of benefits, both from a visual standpoint and a practical one as well. These mirrors resonate with the atmosphere of the times, often featuring elaborate details and stately designs that can immediately help you create a more livable, eye-catching space in your home.
Using a large, stately floor mirror may require a bit of foresight and out-of-the-box thinking in order to maximize the value that these pieces can offer. Whether you are in the process of putting together a functional and stylish Provincial bedroom, or want to create a stunning and unique look for your living room, the following floor mirror ideas and inspiration will be sure to spark your creativity.
Always a Beautiful Choice in the Bedroom
Traditionally, mirrors have always found a home in the bedroom for multiple reasons. They are essential for helping you put together the perfect outfit, but they are useful as an artistic element as well.
Depending on the layout of your bedroom, these spaces can seem uninspiring without the right furniture pieces. While you don't want to stuff too many pieces of furniture into your bedroom, you do want to create a cozy and imaginative space, especially if you are leaning toward a more vintage-style look.
Rather than relying on a small wall mirror above your vanity table for instance, you could try positioning a large and stately antique floor mirror beside your table instead. Placed attractively off to the side or at an angle, adding one of these mirrors would immediately enhance the space and also provide plenty of much-needed usability as well. Just be sure that the details of your mirror match your vanity table and other pieces of antique furniture, otherwise the mirror may throw the look of the room off.
Living Room Centerpiece
For a truly stunning way to make use of a beautiful floor mirror, try adding one of these pieces into your living room. This can make for a head-turning statement that will improve the aesthetic quality of your primary living area without detracting from the authentic feel you are going for. In fact, the right floor mirror can actually accentuate the vintage qualities of high-quality furniture pieces.
For instance, you could try positioning your floor mirror behind your sofa, for an absolutely striking way to create depth and an instant feeling of luxury. Be mindful of the color tone of the mirror as well as any details that might clash with your sofa and side tables, this way the arrangement will look well thought out and harmonious.
Also, consider positioning your floor mirror off to one side of your sofa, or opposite any patio doors, for an easy way to help make your living room feel brighter and larger than it really is.
An Artistic Corner Option
Is there a single corner somewhere in your home that you just can't figure out what to do with? While a bland or empty corner isn't necessarily a tragedy, you can certainly stand to make better use of such a space and help a room feel cozier and more complete. By positioning a large floor mirror in the corner of a room, you can make much better use of this space while adding a unique artistic element that will help enrich your arrangement.
Shine Some Light
Large mirrors are an excellent way to add a bit of natural light into your home quite easily. Always keep in mind how mirrors can be used as a secondary light source, and plan your arrangements accordingly.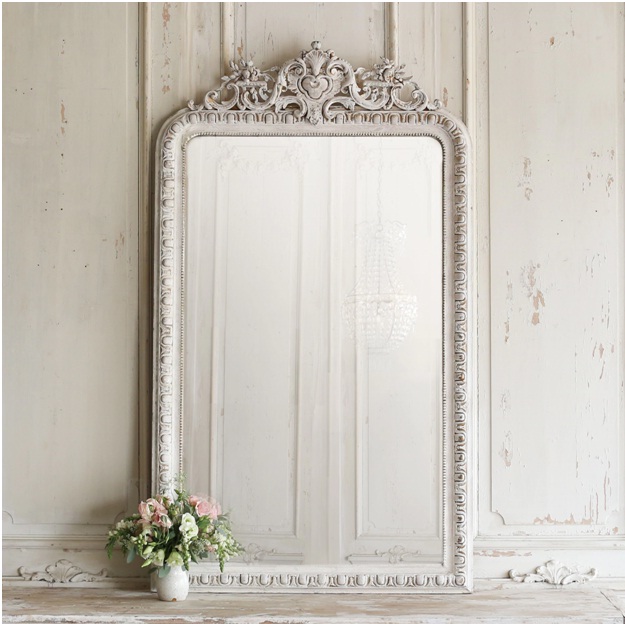 One way you can use antique floor mirrors to increase the brightness of a room is by positioning them opposite to or at an angle to the best natural light source available. For dark or dull spaces that don't get much natural light, this technique can be quite effective.
Why is lighting so important? Unwanted shadows can create a dulling effect that can make even the most luxurious antique furniture seem bland and washed out. The beautiful details and charming weathering of your antiques will be difficult to notice if there isn't enough light.
In general, darkened spaces don't feel inviting and won't give your home the right feel, even with certain lighting fixtures. It's best to know how to utilize spaces as best as possible in order to bring in the most light, and the right mirror can certainly help in this regard.
This technique can also be used to increase the openness of a space. The reflecting windows and doorways, in order to best create the illusion of depth. To get the right look for a particular room you may have to experiment with your arrangement to generate the best effect.
A Hallway Statement
One of the most oft-neglected areas of our homes would be the hallways. While these spaces tend to go fairly undecorated, they actually hold quite a bit of potential, granted you have enough room to include your desired additions.
Full-length mirrors can be used to enhance these spaces, by making them seem larger than they really are. Some hallways can greatly benefit from the addition of a mirror, to better check your outfit as you are leaving your room, or to simply add a unique artistic element to an otherwise bland space.
Make Your Dining Room Stand Out
Although this may seem somewhat unorthodox, a beautiful antique mirror can be used in your dining room to produce a stunning arrangement that will not only impress your guests, but increase the aesthetic appeal of the area.
Compared to most areas of the home, dining rooms tend to suffer from a lack of variety when it comes to furniture options. The standard dining room table and chairs, along with a cabinet or sideboard, and perhaps an additional table or armchair, is the usual standard even in more elaborate settings.
However, a floor mirror can be used in your dining room with some thought toward placement and the overall effect it will have on the room. Consider how much space you have to work with, and how a floor mirror could work to create a feeling of luxury to enhance the dining experience. If you have attractive lighting elements in your dining room, such as an antique chandelier, a large mirror would be a great way to highlight such a piece.
The best place for a mirror in your dining room would likely be behind the head of the table, or right in the middle on one side. It may work as a corner element too, if you have enough space and the piece won't obstruct the flow of traffic.
Create a Luxurious Sitting Area
Are you in the process of creating an attractive and functional sitting area someplace within your home? Perhaps you are fashioning a tea nook in your living room or a pleasant place to read and relax with friends in your master bedroom. Either way, an antique floor mirror is a perfect way to make such spaces come alive.
When considering how you want to craft such a space, allowing yourself to be imaginative will pay off. An artistic reading nook or special sitting area for guests will feel more welcoming with the addition of high-quality antique decor pieces. A floor mirror is one such piece that could be easily used to add that artistic feel you're going for. Simply place your mirror behind one of your armchairs, or between two chairs, to help bring the entire arrangement together.
Go For Baroque
If your home leans somewhat traditional and you have included a fair share of elaborately designed antique furniture in your home, you may want to prioritize obtaining a gorgeous Baroque-style floor mirror that will help bring out these qualities in your antiques.
A gorgeous floor mirror featuring whimsical details and a luxurious style will easily help you enhance a space and give it a more authentic appearance. If you are particularly interested in the Baroque style and want a mirror that features beautiful gilt details and a floral motif, be sure to pair your mirror with furniture pieces that also possess these traits.
Add Some Accents
While a floor mirror is a beautiful architectural accent piece in its own right, you can add to the value that these pieces offer by including a few thoughtful decor elements with them.
Antique pottery, small side tables, books, vintage artisan baskets, and other small elements can be placed beside and in front of your mirror to increase its artistic effect and add an extra hint of style to your home arrangement. Due to the reflective surface, these decor elements will also be echoed in a kind of way that seemingly adds to their presence. The effect can be quite charming, especially in smaller spaces.
Use Laying For Added Effect
Similar to including accents with your mirror, you can also layer objects in front of your floor mirror in order to increase depth within the room. Since mirrors are slim, you can easily sneak them behind pieces of furniture such as antique armchairs or sofas, for instance, in order to produce a layering effect.
Don't be shy about stacking multiple elements. If you enjoy a bit of whimsy, you can simply lean an attractive panting up against your mirror and then place a small basket or vase of flowers in front of that, for a triple-layered artistic statement that will definitely get noticed.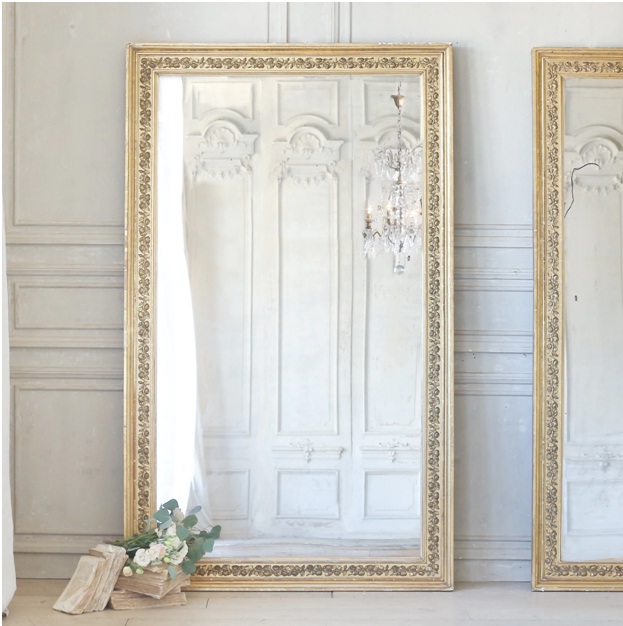 This layering effect can also helped smaller rooms feel larger, so if you have one space in your home that you wish was somewhat more dynamic and open, you can use an antique mirror as a means of opening up the room and giving it a subtle feeling of artistry.
Reflect Your Vision
Don't underestimate the reflective potential of a large mirror. Think carefully about what objects and furniture pieces throughout your home might benefit from being reflected in your mirror. Depending on where they are placed, floor mirrors can create a variety of different illusions and charming effects.
Placed opposite a doorway, they can create the illusion of a portal to another room. Placed behind a table with a beautiful flower arrangement, these decor elements will be doubled up and appear much more lush and vibrant. Mirrors are extraordinarily versatile and are great for simply shifting the way a room appears at first glance.
Experiment With Multiple Floor Mirrors
Want to truly create an imaginative statement in your home? Try adding more than one antique floor mirror to a space and watch how it will brighten up.
Naturally, you will want to take great care to make sure that the theme of your home isn't disrupted and that the two mirrors harmonize together. By adding two large mirrors into a space, you can greatly increase the depth of the room and give it a unique appearance.
Were these antique floor mirror ideas enough to inspire you to create your ideal furniture arrangement? If you are looking for further guidance on how to style your home, we have an abundance of great resources here to assist you. Try visiting our vintage furniture inspiration page, which has plenty of ideas for crafting livable yet stylish spaces within your home.
You can also take a look through our catalogof antique furniture pieces in order to help you get an idea of what you are looking for. If you have any questions about one of our antique mirrors that we have available here in our store, or have any other inquiries, you can get in touch with us here. For the best in high-quality European antiques and handcrafted re-designs, you are sure to find what you need here at EloquenceⓇ.