Nothing takes one's breath away more than french style furniture. Elegant, classic, and sophisticated, there's just something about vintage European furniture that makes it effortlessly stand out. However, when it comes to coffee tables, there's often the question of, "How do you style a coffee table in such a way that it's both functional and pleasing to the eye?"
Thankfully, we've compiled a list of 12 creative ways that you can make good use of that French style coffee table without taking away from its beauty and appeal.
1. Set Out Some Coffee Table Books
Also sometimes referred to as cocktail table books, coffee table books are usually large, hard-cover books that are displayed on a table.
These are usually set out for guests as a way to either entertain them or spark a conversation regarding a certain topic. Art books and photobooks are often good coffee table books, because they don't entail any heavy reading, and can be lightly browsed through by guests.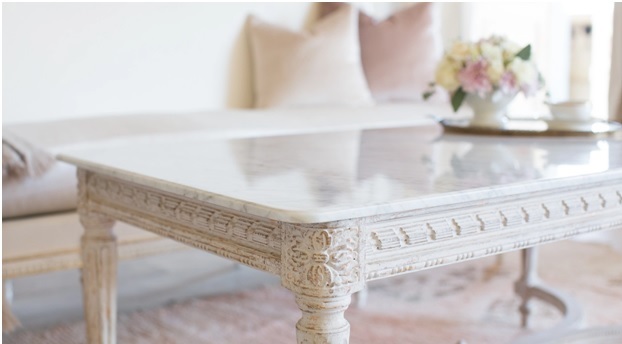 2. Flourish With Fresh Flowers
One decorative element that will most definitely fit that French style coffee table is a vase filled with freshly cut flowers. When choosing which blossoms to display, soft, warm colors are a good compliment to the whitewashed and shabby chic furniture.
3. Or Deck it With Dried Leaves
Not too keen on constantly replacing those flowers with fresher ones? Believe it or not, dried flowers and leaves can last up to a whole year when properly cared for. Sometimes even longer!
4. Engage Those Olfactory Senses
One of the things that can definitely help set the mood in a room are fragrances. yScented candles and essential oil diffusers are a great way to help you and your guests relax and destress.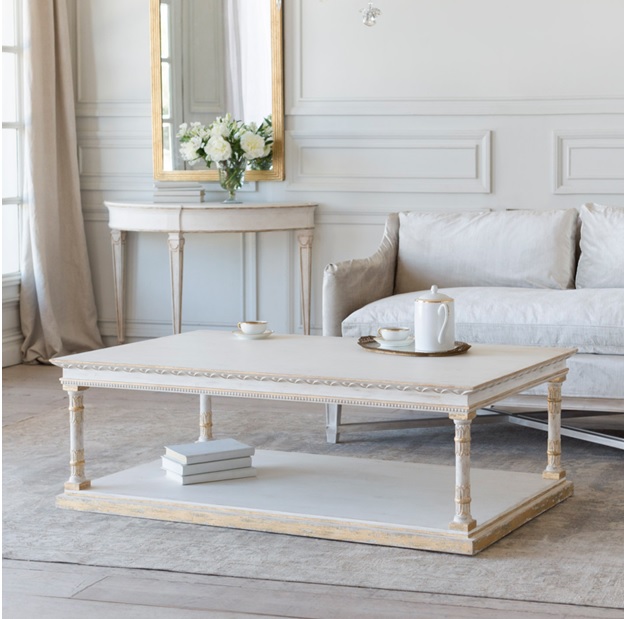 5. Set Out A Tray
Have a tea set that fits perfectly with that French style craftsmanship? Set them on a tray and leave them for display on the coffee table. Or, you can also select a couple of small items and trinkets to collect and display. These can vary from family photos, succulents, small sculptures, or a stunning diorama.
6. Garnish it with a Game
Traditional and classic games like chess, backgammon, go, or reversi are perfect displays on a coffee table. Classic wooden boards that go with the overall aesthetic may be a better fit. Other than being a way to entertain guests, having these classic board games on display also showcases a sense of playfulness together with a tint of sophistication.
7. Add a Little Zen
For those not confident enough to be able to care for indoor plants and succulents, you can choose to have a different kind of garden sit on your coffee table. A mini Zen garden is a great way to help you and your guests relax, unwind, and exercise a little mindfulness, whether through raking patterns in the sane or moving around rocks.
8. Burnish a Bowl
Bowls have a lot of uses as decorative pieces. They're a great place for some potpourri, seashells, pinecones, or fruit. You can also fill them with other, more interesting items such as bells, buttons, marbles, or glass balls. The ideas are endless when it comes to decorative bowls. Or you could simply fill them with nuts and chips whenever you have guests visiting your home.
9. Show Off That Collection
Is there anything in particular that you like to collect? Perhaps you have a stash of stamps, coins, prints, or trading cards tucked in an album. Putting those on display can also be a great conversation-starter between you and your guests, as well as a valuable insight into your interests and personality.
10. Think Outside the Box
Decorative boxes are a great way to add a little structure to your coffee table. You use them to hide some of the clutter on your coffee table, or as a way to improve the aesthetic in your room and add a little contrast to its overall look. These boxes are also a great place to stash your TV and air conditioning remotes, and other electronics.
11. Furbish with Figures & Sculptures
Small figurines and wooden sculptures also make for great displays on your French style coffee table. Animal sculptures, in particular, can blend seamlessly with a wooden coffee table. Figurines of birds, bears, canines, and felines make for excellent displays.
12. Finish with Photos
And last, but not least, are photos. Though perhaps the most common and obvious choice for display, you can also always choose to display your photos in creative ways on your coffee table. Using photo holders instead of frames, for example, can add a little height and variety to your photo display.
A Touch of Elegance And Style In Your Home
There are more ways, of course, to give your home that vintage French Provencal look and feel. Everything starts, however, with choosing the right furniture. We're proud to say that all our reproductions are hand made and hand finished, as our goal is to produce authentic-looking reproductions in the French Country style.
If you haven't yet, we encourage you to have a look at our selection of French style coffee tables here on our website, and get ready to show off that classy, vintage look together with some of the styling tips we suggested in this article.