If you have recently placed a classic white canopy bed in your bedroom, then you are in luck, as this is one of the most unequivocally beautiful elements you could add to your bedroom. Canopies provide your bed with depth, add quaint style to your space, and can even lend an extra element of privacy while you rest in bed.
There is one downfall to owning and setting up a canopy bed of any kind, however: leaving the canopy itself too barren, which can lead to an undesirable heaviness to your entire bedroom.
As you might have already gathered, you certainly don't want that.
In order to best avoid this unattractive scenario, you should properly decorate and style your canopy bed! Let's take a look at ten alluring styling ideas for your white canopy bed to really make the most out of your favorite piece of bedroom furniture!
1.Drape Sheer White Curtains on All Four Sides
If elegancy is your goal, then you certainly cannot go wrong with draping sheer white curtains on all four sides of your canopy bed. These will perfectly match your white canopy bed's design while allowing for more light, openness, and an overall clean look to be supplied to your bedroom.
2.Or Try Curtains on Only Two Sides!
For some, however, having these sheer curtains on all four sides of their bed can be a bit much. You can instead try adding curtains to just two sides of your bed, preferably lengthwise. They still provide you with just enough of that quiet style you're after without compromising the idyllic nature of sheer white curtains.
3.Drape Creatively Printed Curtains (and Match Drapes)
It's possible that the clean look of white might not be the one you're looking to emulate. Why not choose colorful curtains instead, more specifically those with a creative print? These can add an extra flair to your bedroom, especially if these curtains match your bed's drapes. These two and their symphonic motifs will perfectly assist in creating the relaxing space you desire.
Another admirable trait of using printed curtains on your white canopy bed is that it can greatly assist in blocking any unwanted light from your bed while you rest.
4.Drape Sophisticated Lace
We truly cannot portray just how imperative curtains and drapes can be to your canopy bed's style. Another option aside from sheer white and printed curtains is lace. By placing sophisticated lace curtains and matching drapes on your canopy and bed, you will properly yet daintily give your space a heart-warming feature.
Another advantage of lace is that you could simply hang it as is or add it atop your other curtains for an elevated level of comfort and grace.
5.Add a Complementary Bench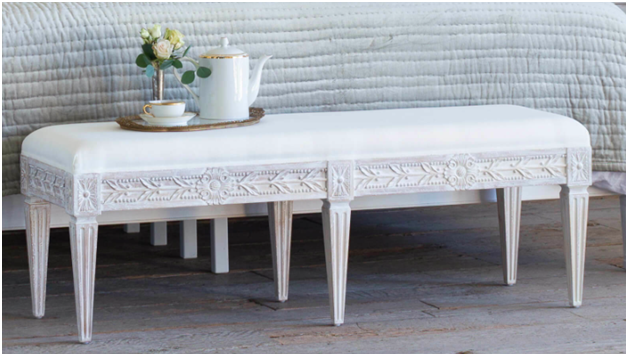 Benches have been around for centuries and it really is no surprise as to why. Placing a bedroom bench at the foot of your bed will efficiently provide your room with a softness, an unparalleled integration of furniture into your bedroom.
By adding the most complementary bench to the foot of your bed, you are supplying your room with an added element of comfort but also practicality. You can use it to sit down while you slide on your slippers or even hold other decorative elements, such as trays with candles and plants or even just a plush fur blanket.
6.Match Decorative Pillows with Curtains
Speaking of aesthetically profitable decorations, you can never go wrong with throw pillows! Adding a throw pillow to your bed (or even your bench!) that superbly mirrors the style of the curtains and/or drapes provides an unequivocal uniformity that is simple yet easy to admire and love.
7.Hanging Plastic Plants
Adding greenery, whether it be real or fake, is undeniably a style-furthering measure to consider in any indoor or outdoor location. If you are looking for a more shabby chic or even boho style for your bedroom, elegantly draping hanging plastic plants from your canopy is an excellent option.
These plastic plants, whether they are only on the top of your canopy or they're also dangling down the sides, can provide a necessary pop of peaceful greenery to your bed and overall bedroom.
8.String Lights Across Your Canopy
Illumination is one of the most important elements to consider in any area of interior design. Natural lighting is second to none, but when looking for a warm and even romantic light source for your room, the first option you should consider is string lights.
These lights can effectively brighten up your room, bringing it remarkable mood-enhancing capabilities, especially with its impressive versatility. String lights can be "strung" nearly anywhere, and that certainly includes your canopy bed.
You have the option to string these across the open space at the top of your canopy or solely along the outline of your canopy as a whole.
9.Use an Offsetting Colorful Bed Spread
For those who particularly have a white canopy bed, adding white linens to your bed may not be your style. Maybe you're after a more colorful and eye-catching color scheme. If that is indeed the case, you can always opt to change up your bed sheets, comforter, and pillows! Add those colorful accents to really spice up your bed's look.
And, yes, that then means that your canopy is left without decorations. Sometimes, with the right type of canopy, bed, and overall bedroom style, it may be best to leave the canopy bare (especially if the canopy features clean lines)!
10.Decorate Your Bedside Tables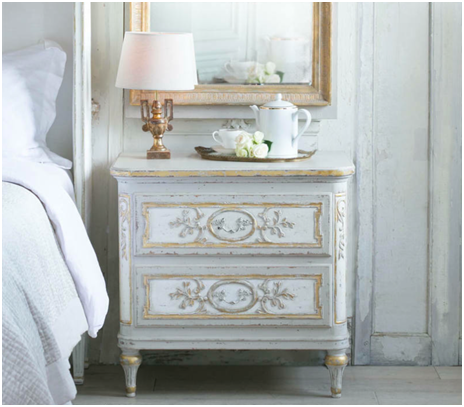 The practicality and the enamoring nature of bedside tables are truly indisputable. Why not take your bedside tables to the next level? You can effortlessly amplify the appearance of your canopy bed simply by adding more accents to your bedside tables.
There are countless options you could add to these tables, such as antique clocks, lamps, table runners, flowers (real or fake), old books, or anything else that speaks to you and your decorative style.
Styling your canopy bed can be an exciting and fulfilling experience for anyone involved. Be sure you have the right bed first, however, to ensure your space's aesthetic and comfortability are a success. Browse our canopy beds today and find the most sublime option for you, your personality, and your bedroom.