Many of the styles the discerning visitor to our online store will come across are reproductions of or original French country designs. Our online catalog is ripe with whitewashed tables and elegantly upholstered and graven chairs and sofas, as well as gilt antique mirrors. These highlights of interior design create a warm, storied atmosphere that is rich with class and culture.
But not everything we offer here follows that same aesthetic. In order to create a more holistic experience for our valued customers, we've entered some highlights of Scandinavian design into our collection. Austere and minimal, yet still warm and inviting, our collection of Scandinavian-inspired designs is perfect for interiors with a minimalistic, yet refined aesthetic. Here's how you can create a harmonic interior design with one of our Scandinavian sofas.
What is Scandinavian Design?
In order to offer some advice on how to create a harmonious interior following a Scandinavian design trend, we need first to provide some insight into Scandinavian design. Much of what is popular in Scandinavian design reflects the region's (Norway, Sweden, Finland, and sometimes Denmark) appreciation for minimalism and nature.
In addition to allowing influences from the natural world, there is a trend in some Scandinavian circles known as Hygge, which refers to the coziness of spirit and the emphasis on homeliness that is prevalent in some Scandinavian designs.
Among other things, Scandinavian design is known for sparse interiors, emphasis on neutral or soft, muted colors, and bare wood. There is an emphasis on simplicity and minimalism, putting the spotlight on function rather than form.
Bare wood floors and exposed wood furnishings are fixtures of Scandinavian design, as are basic open concepts that allow natural light to replace the need for modern electric fixtures. Natural textures, like cotton, wool, and linen are fairly common in Scandinavian design, as are bare metal accents: copper, brass, bronze, and iron. Interestingly enough, it's fairly common to incorporate living plants into Scandinavian interior design.
While open spaces and open concepts are right at home in Scandinavian design, so is the concept of Hygge mentioned above, which emphasizes communal ease and coziness. You can make an open floor plan cozier by arranging furniture around a hearth as a centerpiece or by including candles and soft pillows and throws into the setup. Let decorations fall as they may, rather than neatly arranging them; this is central to the cozy, at-home feeling that is central to Hygge.
So how can the inclusion of a Scandinavian sofa benefit your interior design? There are a few things to keep in mind when you're choosing one for your parlor or living room.
How to Create Balance with a Scandinavian Sofa
Our online catalog contains many fine examples of Scandinavian sofas in soft, muted, and neutral colors, keeping to the Scandinavian precepts of simplicity and bare accents. However, with them, you can create a sense of balance in your overall Scandinavian design scheme. Here are some tips for design:
-Complement colors: Our Scandinavian sofa re-editions feature soft muted colors and simple designs. One of the simplest ways to create harmony in a Scandinavian interior is by aligning the color scheme. Don't be afraid to let small bursts of color shine through, but let the emphasis fall on plain, simple colors.
-Balance the other elements of design, like exposed wood: Our elegant re-editions feature graven wood legs, many of which have a starboard oak finish. If you're looking for a more toned-down way to create accord in a Scandinavian interior, match up the grain or finish of the exposed woodwork for a subtly agreeing accent mark.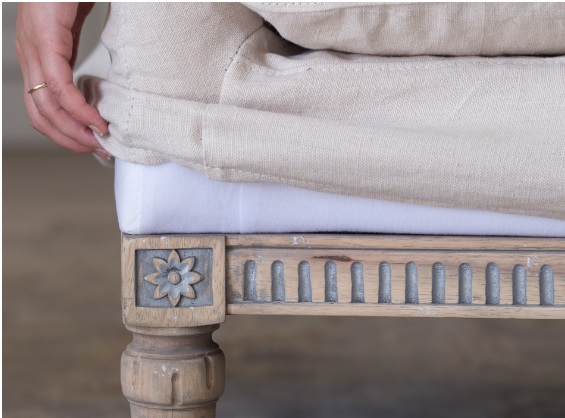 -Create a sense of Hygge with pillows and throws: Choose a plush, soft throw with a simple design or in a plain, muted color to accent your Scandi sofa, soften the hard lines of Scandinavian design, and create a sense of coziness. Adding pillows can deliver the same effect.
-Accept with matching candles: You can actually create a pronounced sense of harmony with matching candles. Many of the coconut wax candles we sell here at EloquenceⓇ feature soft colors and can be used to complement a Scandinavian interior design in two ways; with their colors and by adding the soft graces of natural candlelight.
-Instead of traditional elements of decor, bring the outdoors in: It's been said that Scandinavian design hinges on emphasizing natural elements, like iron, stone, and wood. Typical Scandi design also involves greenery and live plants; if you can bring in elements from the outdoors, do so.
-Embrace Minimalism: One final thought; you can create a sense of Scandinavian minimalism simply by eschewing the florid elements of Rococo design. Simple designs with few ornamentation and plain, angular lines are typically seen as Scandinavian.
Follow Us for More Inspiration
Stay in touch with us on our social media channels, Pinterest and Instagram, so you can keep up with news and ideas for creative inspiration. You can also get in touch with us directly at 310-876-0661 or at info@eloquence.com if you have any questions about our products or how you can create a sense of artistic balance with them.